This year's most significant highlight in my radio adventures was getting into field communications. I supported Parks on the Air (and occasionally Summits on the Air) as a hunter/chaser since my first time on the HF bands – however, early on I did not seriously consider getting out in the field with a radio station.
It all changed in spring 2019, when I seriously considered combining my passion to travel and camping with my radio activities. In addition to that, field radio is a very important component of emergency communications. It is technologically more challenging, and further develops the operation skills.
It did not take me too long to become a happy owner of an all band – all mode field radio station, which I also equipped with solar panels for added sustainability. With this gear in hand, I spent the past 4 months activating parks in the local area, and occasionally took it on my longer trips. Further developing this part of my radio addiction, I assembled another, ultra-portable HF station, that I plan to take with me when I travel by air.
---
---
Based on my experience of 21 successful activations to date, I developed a certain sequence of steps that help me stay on track with my preparations for the upcoming activation, during the operations in the park, and with timely submission of my results after I am back. In this post, I'd like to share my POTA routine.
T minus 1-2 weeks
Approximately 1-2 weeks before the intended activation, I identify the potential target: the park that I want to operate from. There can be different reason to choose a certain park. Whether it was never activated before, or it is a new one for you, or it it close to where you live and doesn't take too much time to get to, or it is along the way of your travel for a different goal: it depends on the situation. What remains the same in all cases is – get out there and have fun!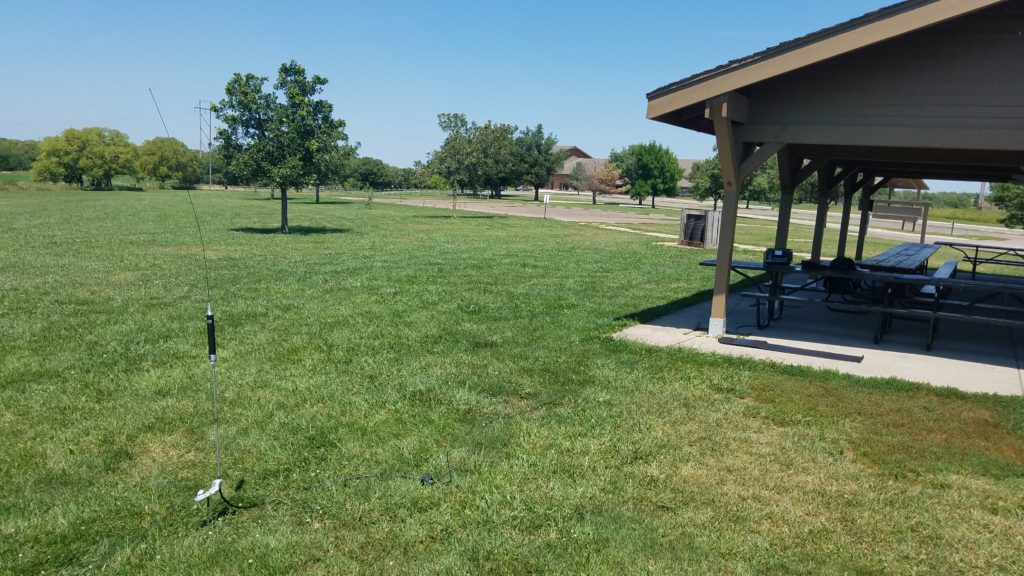 After I figure out the park(s) that I want to activate – I draft the schedule for the day. If it's a multi-park rove – I have to allow time for travel, set-up and packing, as well as think of a lunch break if I spend the whole day outdoors. If the place is new to me – it is a good time to explore the satellite imagery and identify potential operating positions. Since my portable station weighs a little over 20 lbs, I prefer to set up not too far from the parking lot (or work from the back of my car).
While looking for an operating position, I consult with the official park maps that I download from the corresponding authority's website. This way, I make sure that I conform with the POTA rules and operate from within the boundaries of the park. If the terrain is challenging, and I have concerns about ending up in the valley where my signal will have trouble to get out, I also refer to topographic maps to verify that my choice of operating position is optimal. I also prefer to have at least one backup position, especially in the parks with unpaved roads.
If you are going to activate the park that is new to you – it is also a good idea to check if there are any fees associated with visiting the park. There may also be some park-specific rules that you may not necessarily be familiar with – so go ahead and do some homework on their website! Check if the park is open, and whether or not there are any road closures in/around the park that can affect your plans.
T minus 5-7 days
About a week before the planned activation, I already have the "game plan". I am familiar with the park(s) that I am going to visit, and with the locations of the primary and backup operating positions. I have the maps printed out (official park maps, and satellite maps of the operating positions at different magnifications). I will also print enough log sheets for my activation(s) – I am paper-logging in the field, and transfer the data to the logging software after I get back home. I find this way more convenient, efficient and fail-proof.
During this time, I assess the extended weather forecast, and try to estimate the potential for the plans to be altered by weather. If there is a reasonable chance for that to happen – I start considering the alternatives, and plan for rescheduling or cancellation. Sometime around this time I also schedule my planned activation on the POTA scheduling website. If an out-of-state or multi-park activation in planned, I will also post an announcement in the POTA Facebook group.
T minus 1 day
The day before my activation adventure, I prepare my station and all necessary supplies. I make sure that all batteries are fully charged. I also prepare food and water (it is particularly important for the multi-park activation). Here is a brief check-list of what I prepare to be loaded in my car early in the morning of the activation day:
Commander 7100 (fully charged) / Icom IC-7100 (turn on and check)
SuperAntenna MP1DXR bag (coil, whip, extenders, radial set, SuperSpike, 1:1 balun, coax jumper, 25 ft coax cable)
MFJ 1979 extended whip
Rockpals 60 W solar panel
Clipboard (complete with paper log sheets, park maps, operating position maps, printed FCC official license, 10-15 POTA flyers)
pens (2), pencils (2)
foldable chair
foldable table
water (in cooler if summer activation)
snacks (or food if multi-park activation)
sunscreen (if summer activation)
insect repellent (unless winter activation)
first aid kit
This is also a good time to check the latest weather forecast, and adjust my plans accordingly. Sometimes, however, weather does not get in the way until the very last moment – thus it is important to be ready to adjust and improvise!
Activation Day
The most important day of these two weeks has finally come, and the excitement is on its peak! I try my best to keep up to the schedule – I hope that this helps the hunters, particularly when I am going on a multi-park rove. It is especially important when you have no cell service in the park (and that was the case for me in ~80% of my activations).
Once I arrive to the park and find my operating location, the deployment of my station usually takes less than 10 minutes. When I fire up my radio, I usually start on 20 meters. I first browse the band looking for other activators (great opportunity for a park-to-park contact!), or special stations that I may want to make contact with. If I have cell service – I will check the POTA spotting page and see if I can reach other activators that are on the air at that time.
---
---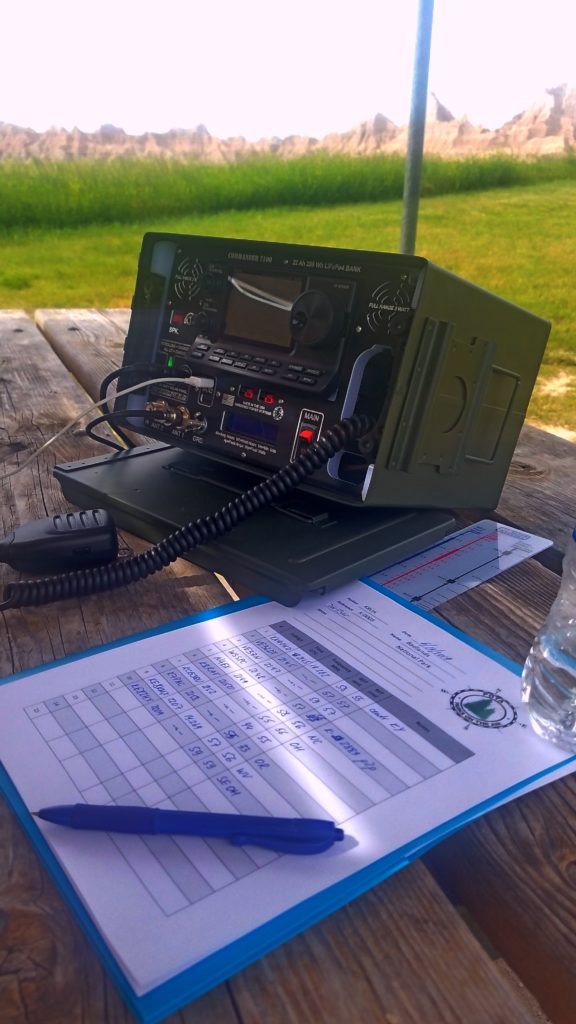 After harvesting the contacts, I find an unoccupied frequency, listen for 1-2 minutes, and make a call to see if the frequency is not in use. If I am lucky – I will start calling CQ on this frequency. When cell service is available – I will spot myself on the POTA spotter page, and post the frequency in the Facebook group. Otherwise – I will work like in the good ol' days, and hope that the awesome hunters will feel where to look for me!
When calling CQ, I usually provide the designator and the name of the park, and occasionally the state that I operate from. My usual calling format will be something like this: "CQ CQ Parks of the Air, CQ Parks on the Air. This is Kilo Eight Uniform Alpha calling from [park name] Kilo [designator] in [state]. CQ Parks on the Air". When a station responds – I usually follow with the standard minimum exchange (signal report, park number and state). If there is no pileup – I may have a brief convo. If the other operator gives me their name – I always respond by giving them my name too. Regardless of the pileup, I like to take time to thank the operator for the contact, and wish them a good day: it is not a contest in the end, and I truly value the human interaction aspect of the radio.
When the intensity of the contacts subsides, and if I have time, I will then change to 40 meters and repeat the describe process again. If the band conditions are too unfavorable, I may switch to 40 meters sooner – if I have no success on 20 meters. During several activations, I even had to try 10 and 15 meters – and even got some contacts there! I try to stay on the air as long as I have someone to talk to. Thus, I will go QRT once I have no answer to my calls in 10-15 minutes. If is have to move to another park, or if the activation is part of a larger trip – then the time consideration will be different of course!
---
---
T plus 1-2 days
The adventure is over, I had lots of fun, and I greatly enjoyed talking to many amazing people out there who wait for us to get on the air. The POTA hunters. Now it is time to pay tribute to them, and to make sure that they receive their deserved credit. It is ours – the activators – responsibility to prepare and send the logs to our regional coordinator in a timely fashion. I try to do that the same day, after I come back and grab a bite. Sometimes though, something else gets in the way, and I do the logs 1-2 days later.
At my base station, I use Log4OM for logging my contacts. It is a free software, packed with different features beside the simple logging. It does CAT control, has integrated cluster interface, provides you with nice QSO stats, and synchronizes with most of the online logging databases, such as LoTW, eQSL, etc. After transferring my contacts to Log4OM, I select them and export into an ADIF file.
The resulting ADIF file contains a lot of unnecessary information, and also lacks a few important fields. Thus, I use another free software, ADIF Master, to properly edit my log and limit the effort needed from my regional coordinator. I leave the important fields – such as CALL, NAME, COUNTRY, CNTY, STATE, QTH, GRIDSQUARE, STATION_CALLSIGN, QSO_DATE, BAND, FREQ, MODE, RST_RCVD, RST_SENT, and TIME_ON. There are also three POTA-specific fields that need to be added. One of them, called MY_SIG, always contains the name of the program – "POTA". The field MY_SIG_INFO contains the designator of the park that you activated. Finally, SIG_INFO will contain the designator of the other park for the park-to-park contacts.
After sending the log to the regional coordinator, my job is done! Even though Mike W8ZST is absolutely fabulous and processes most of my logs within a day – should this take longer, I will not disturb him and will wait patiently. Please always remember that they are all volunteers. This means that they have multiple other things to take care of, most of which will have higher priority than your logs. Be courteous and wait at least two weeks before contacting your regional coordinator and asking why you don't see your activation(s) in your profile.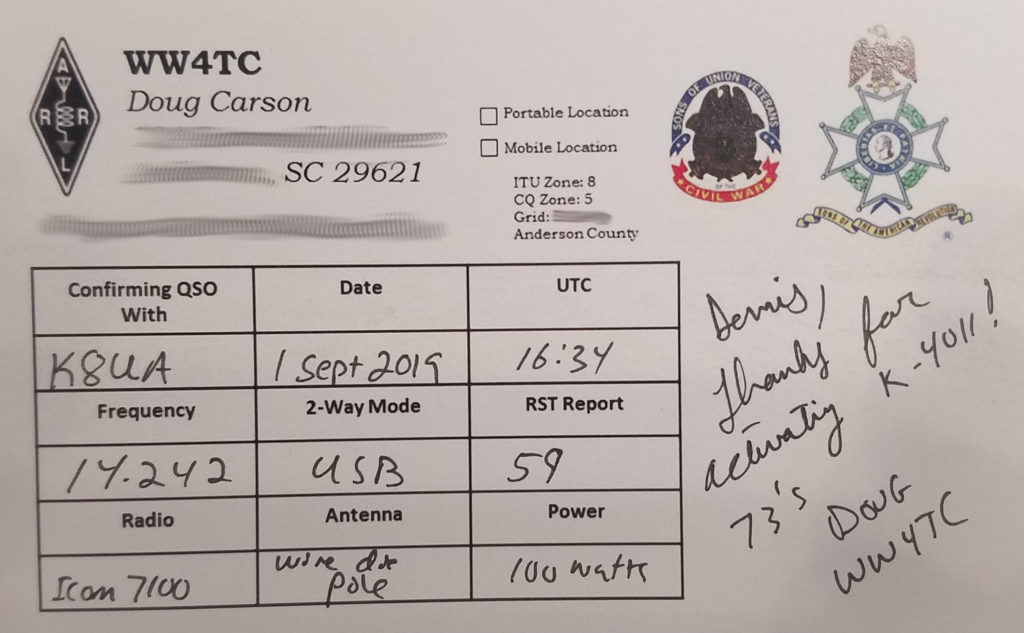 Several days after the activation, the QSL cards start coming in the mail. I usually don't send them by default – however, I will send a card if specifically asked for, or if I see that a person collects paper cards. I also send out cards to young operators – and I certainly respond to every card that I receive! This pleasant ritual of exchange concludes my POTA routine – needless to say, it most often leads to the plan for the next activation!