Last weekend I enjoyed a very successful test of my new fiberglass telescoping mast from SOTAbeams (and not so successful deployment of the antenna). The issue was promptly resolved the same day, and I decided to return back to the park to complete the once-failed activation, and also give it another full test for my ultraportable HF station before I leave for the first out-of-state adventure with it.
Good news is you don't have to commit a whole day to relax outdoors and have a little fun with friends and radio. So yeas, there's one less excuse for sitting home! My friend Bryan KØBNM joined me this morning for my park adventure – and we had some great fun chilling in the wind on top of the 85-foot observation tower, practicing field radio – and enjoying field coffee 🙂
We arrived at the park shortly before 9 AM (thankfully, it is a reasonable half-hour drive for us), and climbed up the observation tower after a quick chat. This time, I decided to deploy my PackTenna random wire as an inverted V, just like I did for my last weekend's successful attempt. To my luck, the wire turned out to be of perfect length to be attached to the two corners of the observation deck, with the V's high point supported by the 20-foot mast almost in the middle. It took us less than five minutes to deploy the antenna, and it is an easy one-person job as well.
---
---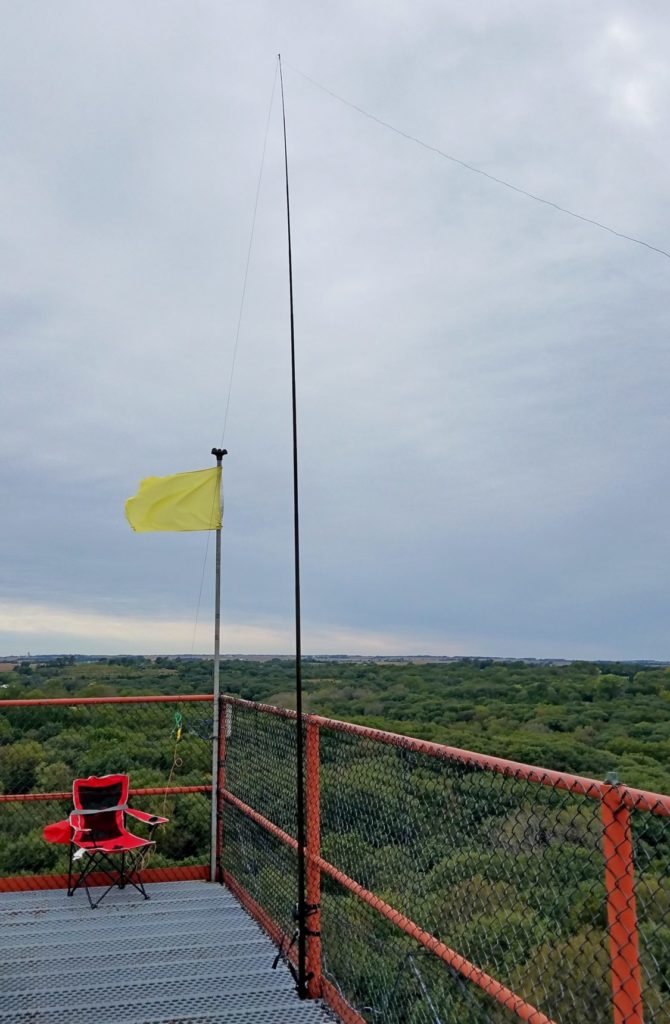 The station was ready to go a few moments later, and I fired up my KX2 to see where I can land on 20 meters and start calling the hunters. However, I already knew that it won't be that easy: the California QSO party was in full swing. I already knew that this is a very active one, with a lot of operators on the bands. In fact, yesterday if was impressively packed, and I even managed to make several contacts on 40 meters! You probably know that QSOs 2000+ miles away do not happen very often on 40 meters.
I already knew the two sides of attemting to activate a park in the middle of an active QSO party. Unfortunately, most of the times it means just logging enough contacts to score a successful activation. I do like to contact the hunters and "bring" many of them a new park. Thus, I tried to call CQ for some time, but was informed that I was actually covered by a strong California station that I didn't even hear (yes, propagation likes playing games). Thus, I simply logged 11 contacts with the Golden State and decided to be satisfied with this.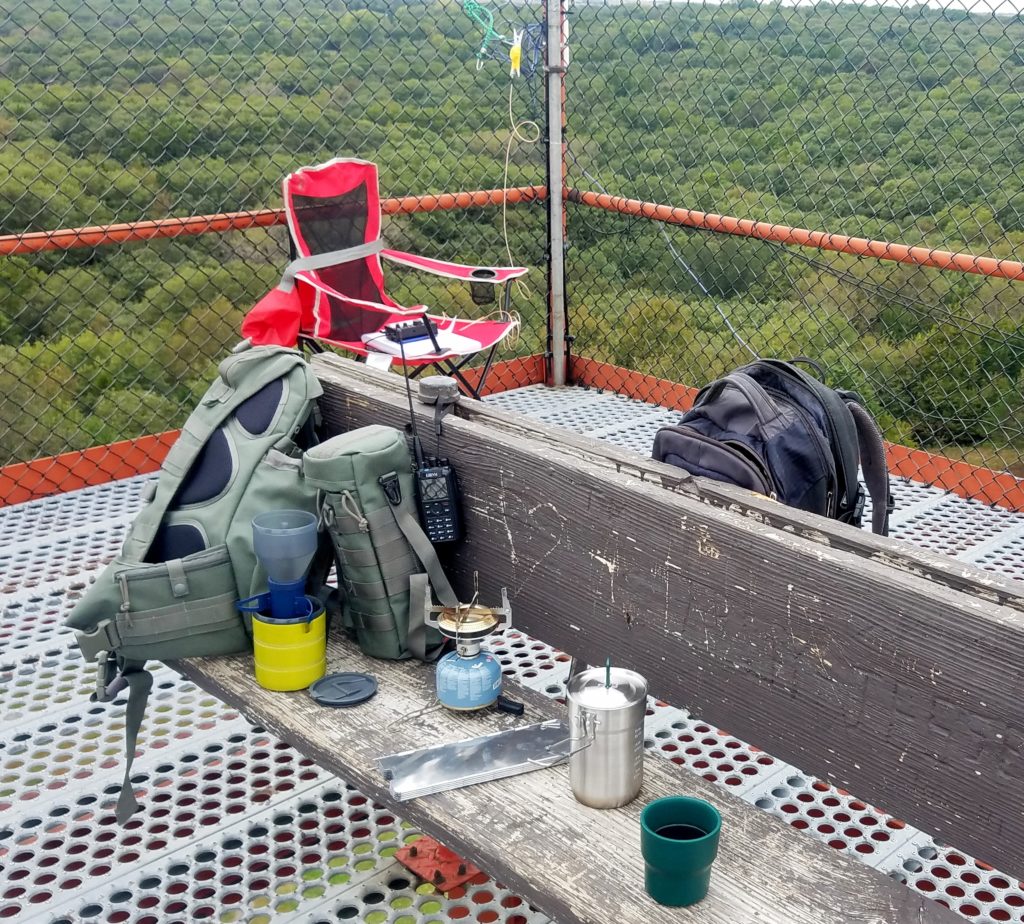 Meanwhile, Bryan was testing another device, the importance of which during such outings can't be underestimated: a new portable coffee maker. It's a nice little filter that conveniently packs inside the mug – adds almost no weight and takes virtually no space, but delivers a delicious energizing drink when it is definitely most welcome! It took me less than 15 minutes to log all my 11 contacts – and by that time coffee was ready for us to enjoy. Thanks Bryan!
---
---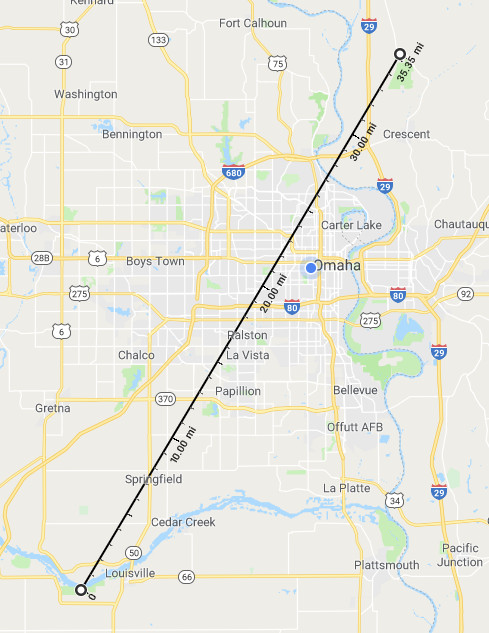 Of course, our radio experiments didn't end just there. Using his Anytone AT-878 HT on medium power, Bryan was able to reach the ABØVX repeater in Honey Creek, IA – more than 35 miles away from our location. This distance is a little less impressive than almost 100 miles that I scored in South Dakota – but we were not on the top of the mountain either!
I wish I was able to reach the many awesome Parks on the Air hunters who are waiting for the activations – and I'd definitely spend more time and put more effort in the activation itself! However, this will have to wait, and with this park being so close I definitely will be back there when the QSO parties season is over (maybe for the Winter Field Day? Who knows).
The main result for today was that the new setup worked flawlessly, and the output power of only 10 W did not preclude me from making contacts with stations over 2000 miles away. That being said, only once I had to repeat my call several times – in all other cases the corresponding station came back to me from the first (or maybe second in pileups) attempt. With deployment and pack-up tested several times, I think I have everything and good to go!
Another important message is – don't wait for the perfect time, perfect weather, or perfect something else. Just grab your gear and your friends and go! We were back to our other plans around 11 AM this morning, with almost all day ahead – but we had a great time and a lot of fun!