This past weekend, we went on a short road trip to Kansas with my friends. Initially we signed up to run a 10K in Olathe, KS for the Garmin "Oz Run" Marathon – but the event was pushed back to fall. However, we had some plans around the race, so we still decided to go. Needless to say, I took this as an opportunity to add some more parks to my activated list.
To my disappointment, I woke up on Saturday morning to a handful of posts in the Parks on the Air Facebook group complaining about bad band conditions, and discussing a solar storm happening over the weekend. I thought to myself: "of course, with all my luck that had to happen when I'm heading out to some parks!". But, as John ABØO and other prolific activators often say, never be discouraged by the band conditions, as propagation is a tricky phenomenon.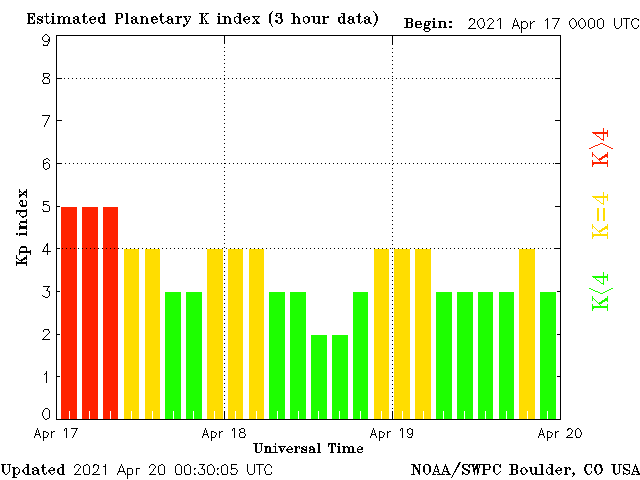 Thus, I kept the plans intact, and made the first stop at the Perry State Park in the afternoon of April 17th, as we were approaching our first destination Topeka, KS. I deployed my Super Antenna on the roof of the car parked by the beautiful lake. To be honest, this was not my first activation in challenging band conditions (I had it harder even with no cell service or with thunderstorms roaming around). But during this trip, radio was not the first priority, and I did not have unlimited time to spend to get those 10 QSOs in my log.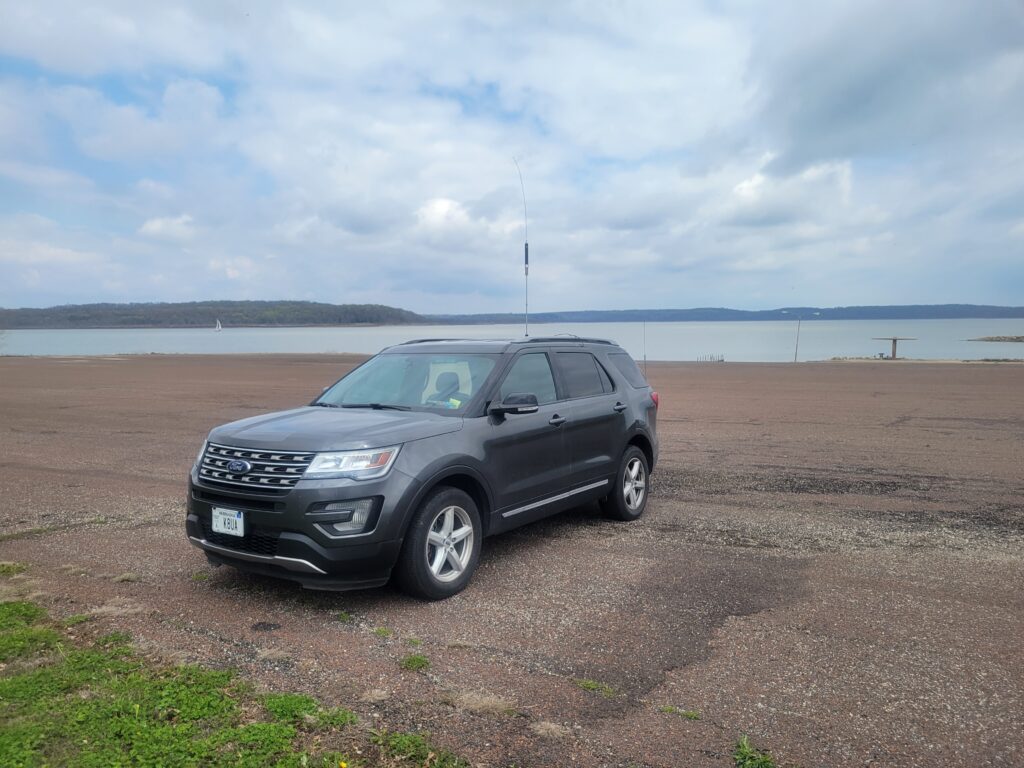 ---
---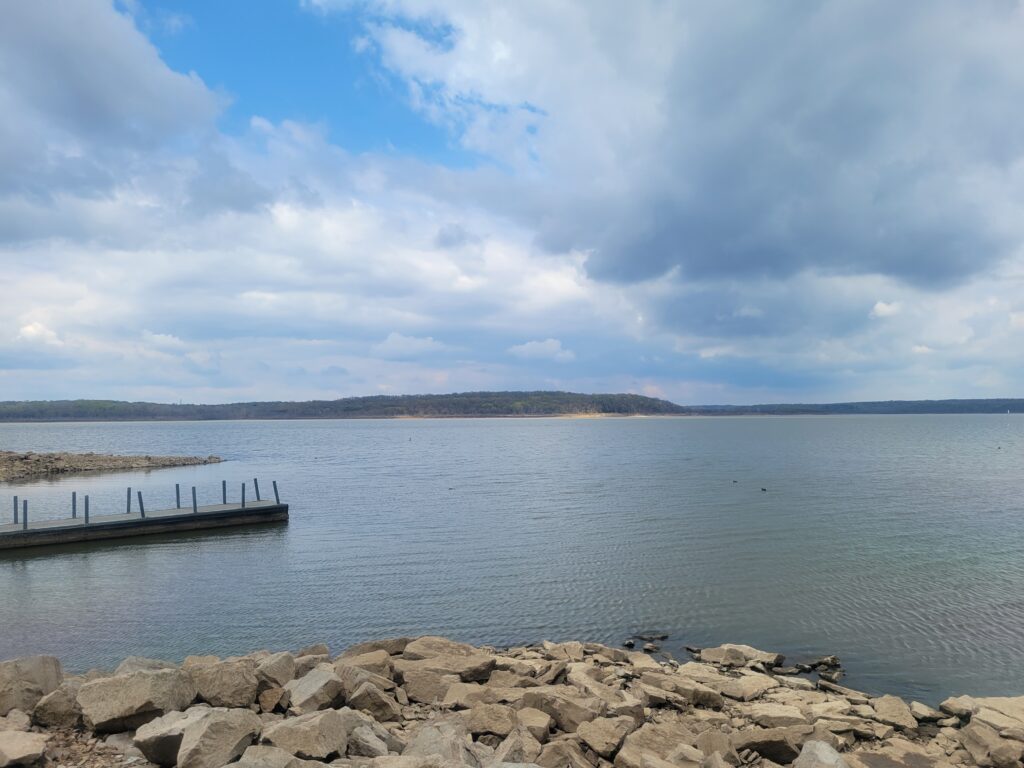 When I first fired up my radio and started calling CQ on 20 meters, I though that I'm up for quite a challenge: the noise was quite noticeable, and I haven't heard too much activity on the bands (I usually start by sweeping the spotted activation frequencies for park-to-park contacts). However, I was lucky enough to have a good cell service, so I spotted myself and kept calling patiently. Not too long after, I started having some activity on my frequency. Of course, I didn't score a pile-up (my record activations topped 110 contacts within one hour), but I was able to log 15 QSOs in approximately 40 minutes, including one park-to-park contact. Last 4 contacts were made on 17 meters. As can be seen from the QSO map, propagation significantly favored the East Coast at the time of activation (it wasn't too early in the morning, so 20 meters should've been otherwise be wide open to the West Coast).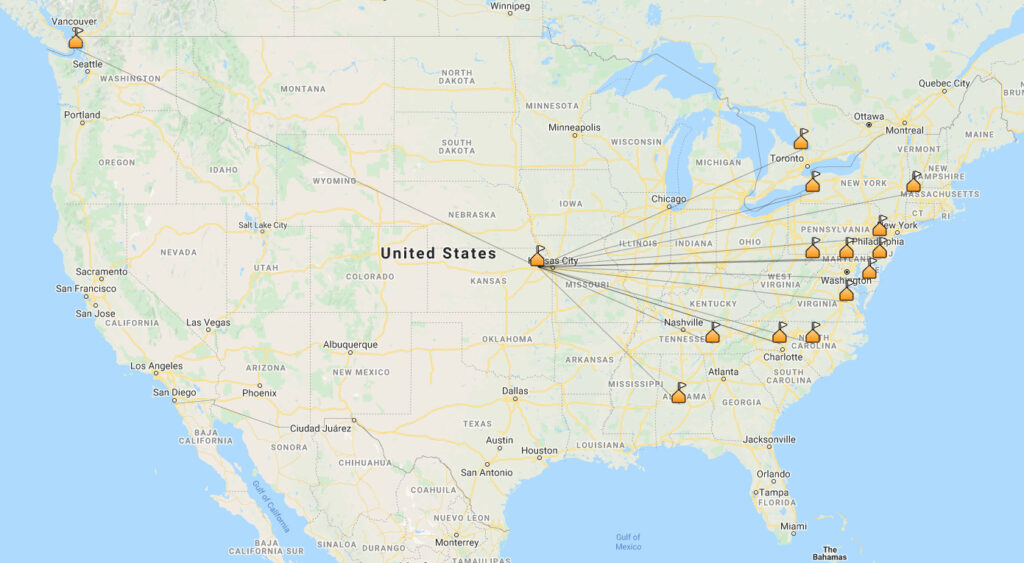 After spending a few hours walking in downtown Topeka, visiting my 6th State Capitol (not counting the US Capitol here), and enjoying some Mexican food, we got back on the road to our next destination – Wichita, KS.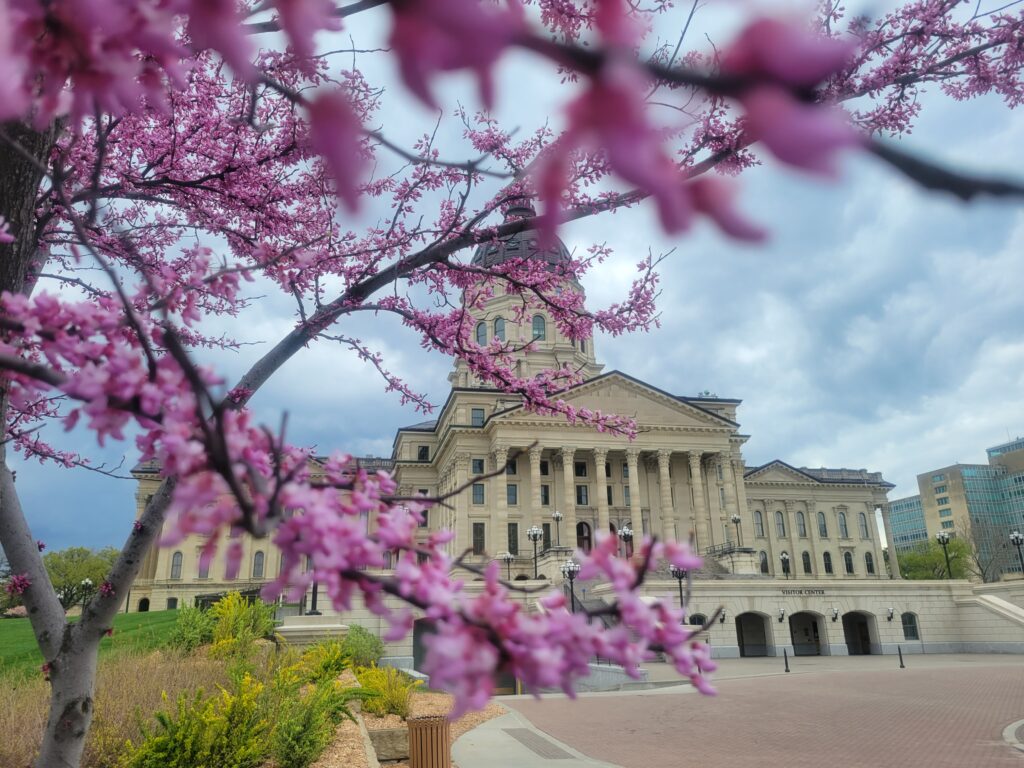 ---
---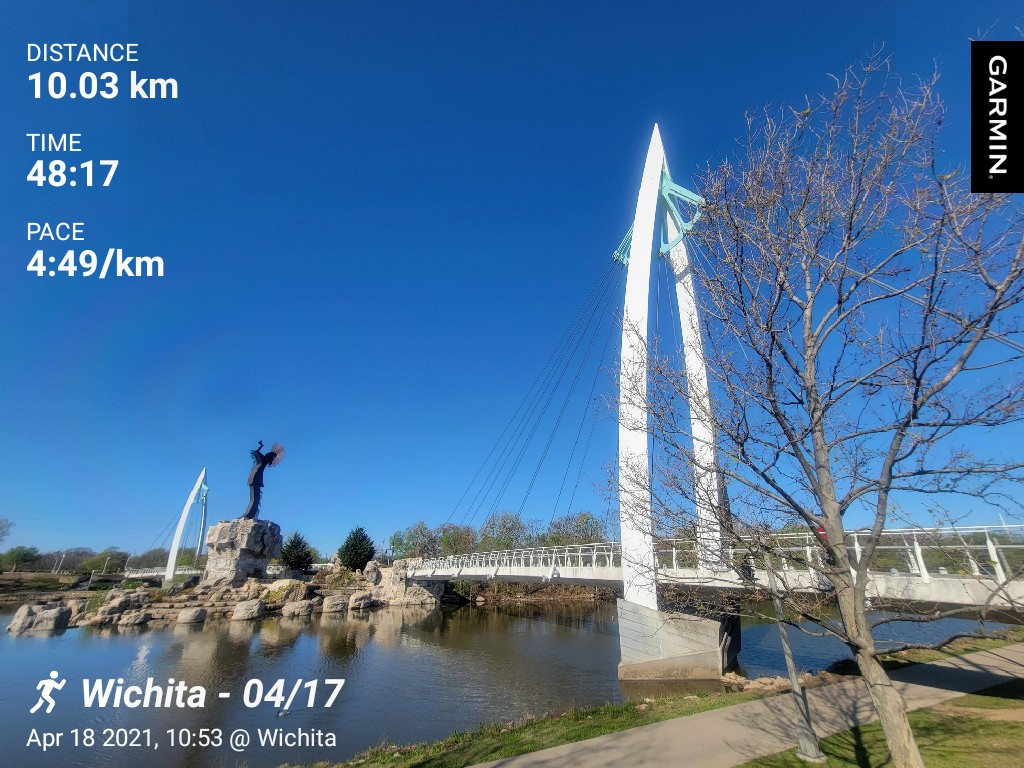 We woke up relatively early in the morning, as we planned to run our 10K anyway – this time for our personal satisfaction rather than for a finisher medal. We enjoyed a hearty breakfast in out hotel (I highly recommend considering the Hilton Garden Inn in Wichita Downtown – it definitely exceeded my expectations!), and then spent some time walking along the riverfront before getting back to the hotel to change, and hitting the trail.
After catching our breath from a very nice and picturesque run, it was time to pack up and head back north, since we still had quite a drive to Lincoln, NE. Today, I planned to stop at the Kanopolis State Park just southwest of Salina, KS. It is the first State Park in Kansas, so we thought special about visiting it as we also got to hike in the Nebraska's first State Park last summer. By the way, this year Nebraska celebrates the 100th anniversary of its first park, and the radio community is getting ready to celebrate the Centennial on the air!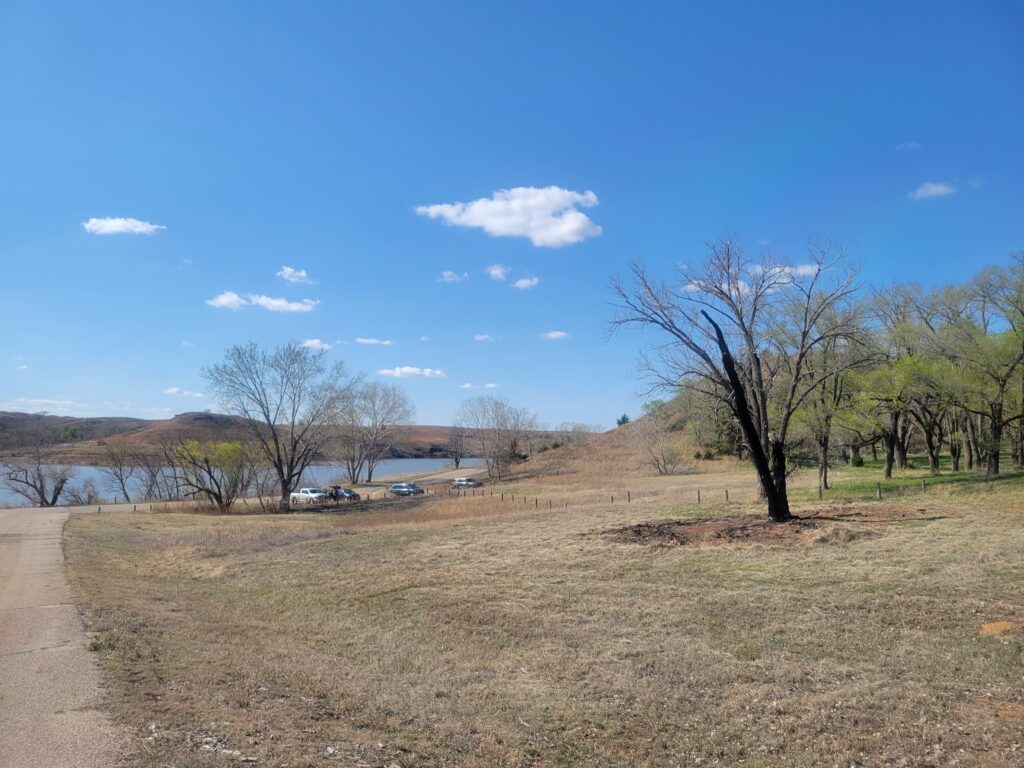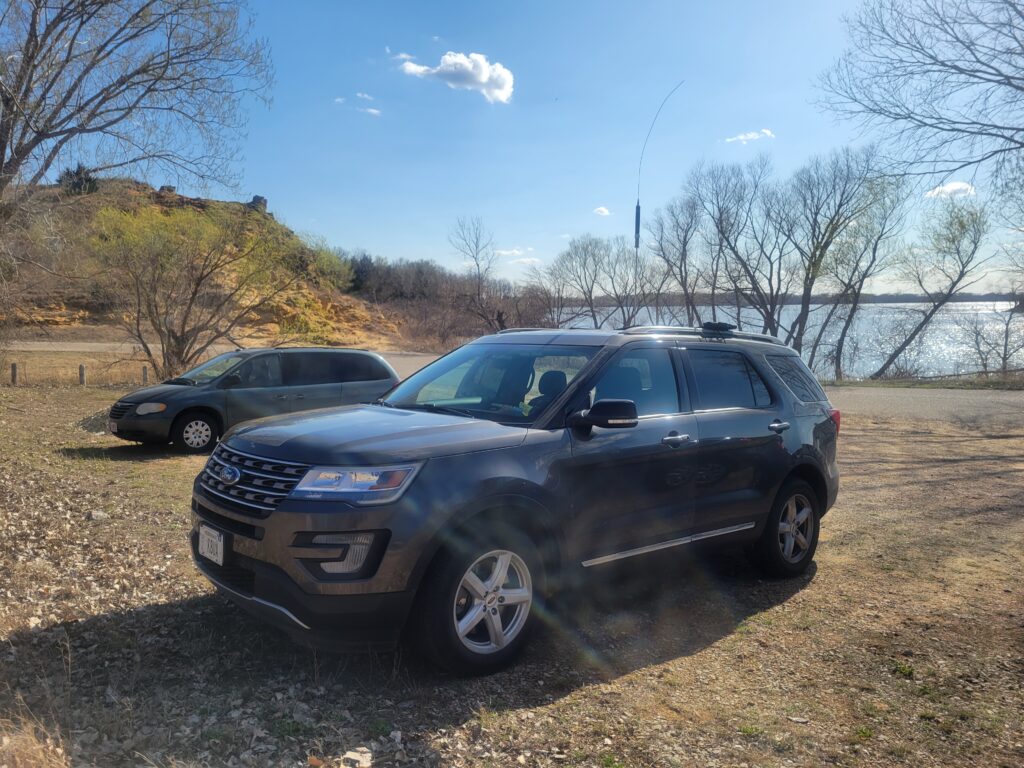 Unfortunately, due to time restrictions I had to sacrifice my opportunity to hike in the Kanopolis State Park to the propagation gods, as I stayed in the car and activated while my friends enjoyed the scenery around. The band conditions were still quite poor, and a loud company of hikers came back to their cars right when I was setting up – so that did not help hearing weak stations. However, I successfully logged 11 contacts (all on 20 meters) in just under 30 minutes. That included 3 park-to-park QSOs in California and Texas, as well as a nice little chat with K6MOX/XE2 enjoying his vacation in Baja California. As one can see, I lacked most of the East Coast this time, but the contacts are more evenly spread from this session.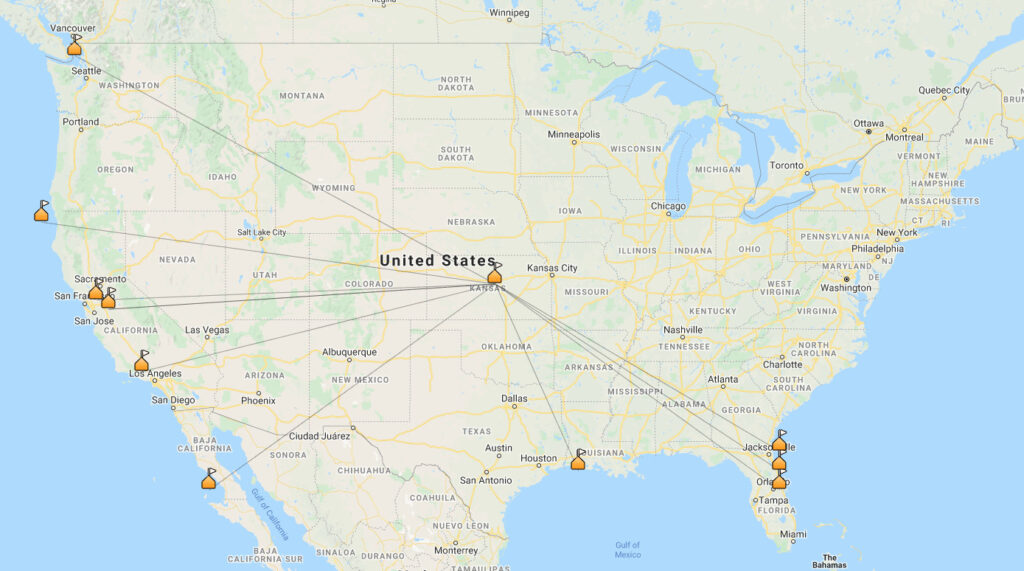 ---
---
We rolled in to Lincoln quite late, so I decided to finish the last stretch of my drive home on Monday. This also gave me an opportunity to stop at one of my go-to parks – K-2614 Mahoney State Park. It was quite a different activation from those I had over the weekend: the cold front was moving through the area, bringing freezing temperatures and some snow. If only a day before, we were enjoying higher 60s, that day I activated in 33F with gusty winds and snow flurries. The bands were noticeably improving, and I was able to get 35 QSOs to my first Kilo award in just 30 minutes on the air.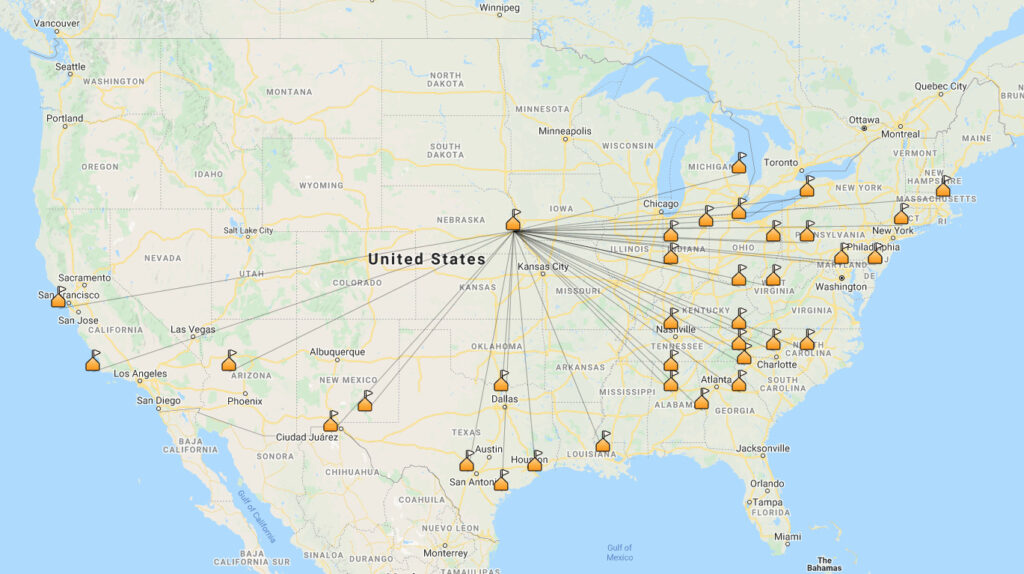 Overall, I greatly enjoyed this little weekend getaway. We visited two nice cities, enjoyed beautiful scenery both on the road, in the parks, and in the cities we visited, had some nice food, got our PBs on the Sunday run, and just had a great time together. I am also happy to having been able to sneak two park activations into our schedule, and I'm glad that the solar weather forecasts and complaints about poor band conditions did not deter me from going out and activating: it was fun nevertheless! I am still happy with my new way of deploying the Super Antenna on the mag mount – it helps a lot during this kind of activations, when time is prime!