My today's field radio adventure (I went to activate three parks in the Parks on the Air program) reminded me that not all the time everything goes as planned, and once you're outdoors – you have little to no external resources. Thus, best practice is to do your homework, but also to be ready with your Plan B (and if needed, involve other letters of the alphabet 🙂 )
To begin with, this trip already did not follow the plan: I planned to activate these parks two weeks ago, but had to push it back due to a strong solar storm that created a lot of troubles on the bands (I went to the Chalco Hills Recreation Area instead and played with the new 17 ft whip for my Super Antenna). Another challenge with the first two parks – Loess Hills State Forest and Preparation Canyon State Park – is that most of the roads (and thus spots accessible by car) are down in the valleys, which hinders the radio waves propagation. Thus, I had to do some extensive homework to find a sweet spot in each park, where I could comfortably operate from my car.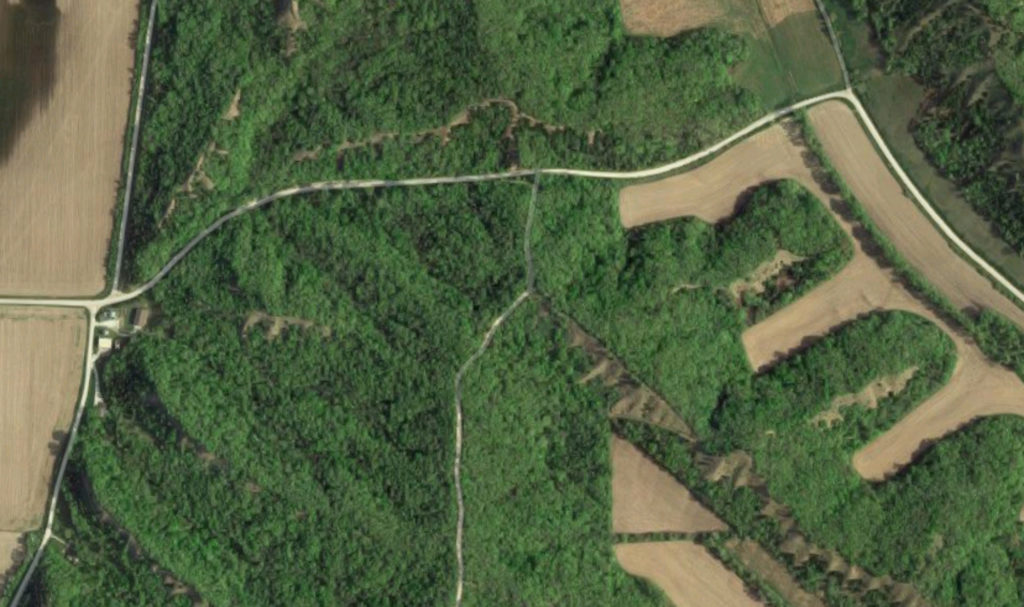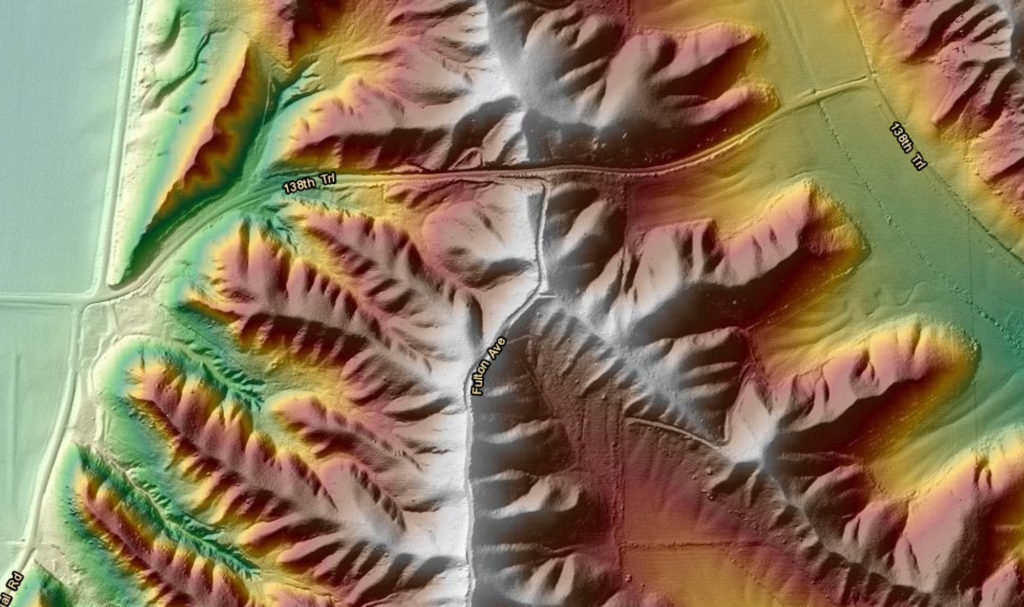 Using the satellite and topographic imagery, I tried to avoid finding myself in the bottom of the canyon (although it was a fun experience operating from there too!). I chose the roads in both parks that are on the ridges, and thus will give me an advantage of height in an otherwise disadvantaged setting of a portable field station. The other question I had for myself is whether the trees there will let enough light to the solar panel – but that had to be discovered on the spot.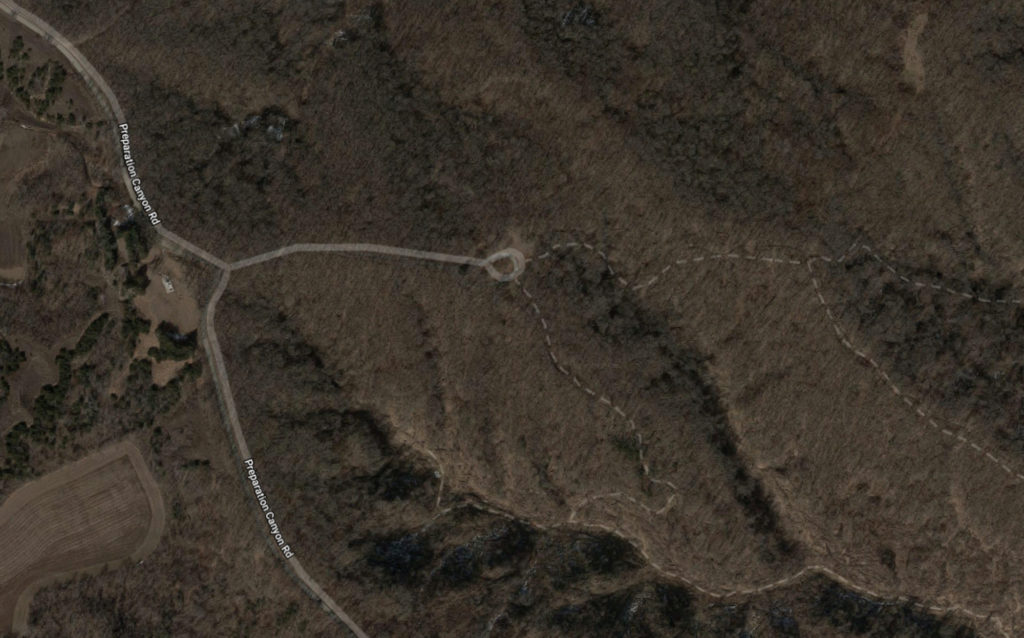 ---
---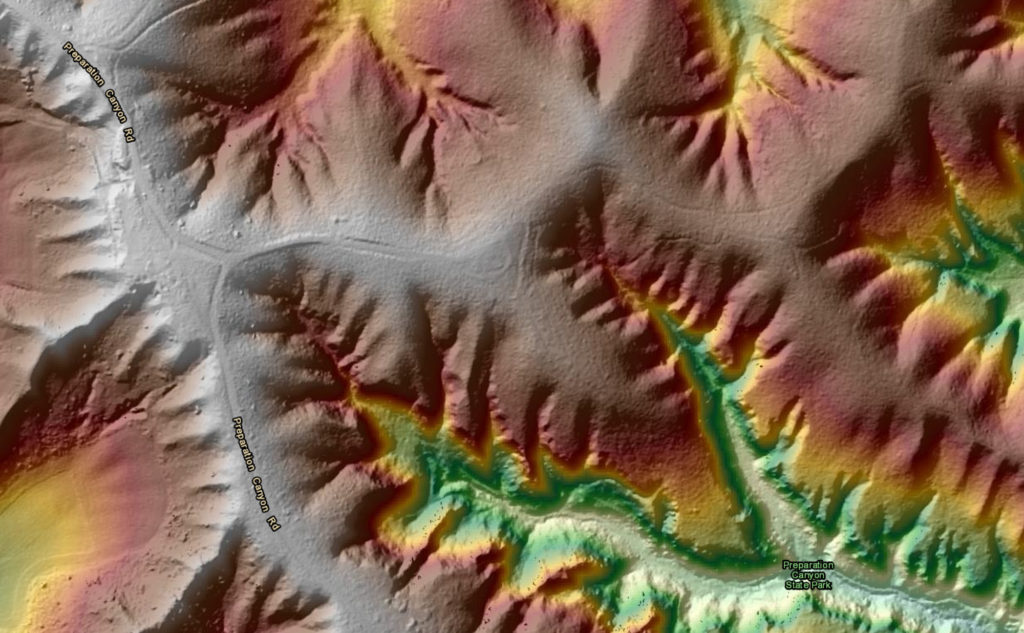 The weather had its own plans for today – severe thunderstorms popped up north from my home when I already loaded the car and was ready to go. I proceeded with my plans, as I figured that rain will be over at the first park by the time I get there. What I did not pay enough attention to was the fact that I had to drive through those thunderstorms – and I should say that was not very fun.
Once I arrived to Loess Hills and got to the turn from 138th Trail Rd to the Fulton Ave, I was up for an unpleasant surprise: the latter turned out to be a "road of minimal maintenance", which, given the very recent downpour, meant that I had to drive a 4WD F-250 to get through. And that brings me to the first lesson learned: in our age of online everything, make sure to have offline (or printed) maps of the area where you plan to operate. Most of the places where I deployed my field radio station have no cell service, thus I have an offline maps app on my phone (Maps.me is a great one that I use almost 7 years). I also brought printed park maps with me.
With the map in my hands, I had to retreat to a very sub-optimal location down in the valley along the 138th Trail Rd. I set up my station in just a few minutes – tuning the antenna based on our previous experiments was a breeze! The sun still hid behind the clouds, so I didn't even bother to unfold my solar panel.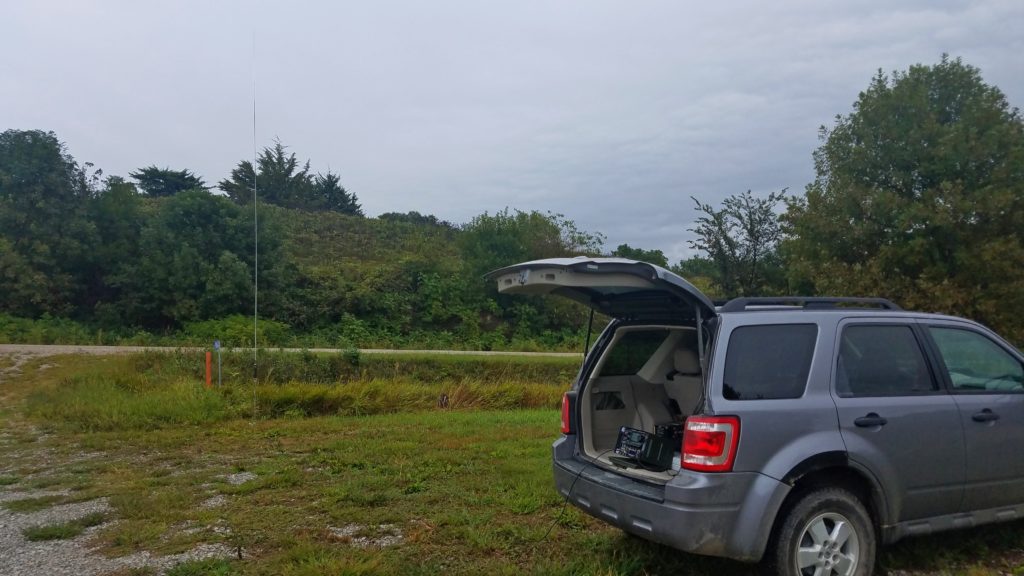 As soon as I turned my radio on, I realized that I have two more problems. There were three contests on the air at the same time – which meant that I had to try breaking through the pileups to make any contacts, let alone being able to find an unused frequency to be able to call. Next – due to the thunderstorms that just passed (I still could hear thunder) the static crashes were as loud as S7-S9, making it very difficult to hear what was happening on the air.
---
---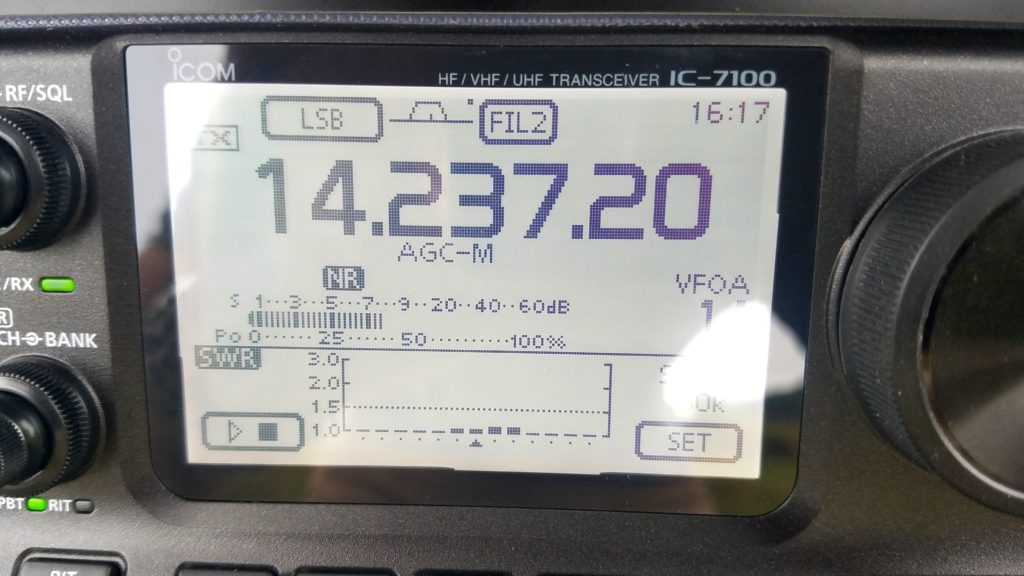 I decided to turn one of the challenges into an advantage: being unable to efficiently call CQ (I tried for almost 30 minutes with no success), I used the Alabama and Texas QSO parties to get the needed 10 contacts to call my first activation a success. I also heard a strong Italian station, but breaking into that pileup was well beyond my abilities. Another good alternative would have been to try CW – however, I did not yet purchase a portable key for my IC-7100. I felt satisfied, but it still was like pulling teeth: it took me more than an hour to log those 10 QSOs. Then I quickly packed up and hit the road to the next park.
Conditions improved significantly by the time I was setting up at the Preparation Canyon State Park. The sun was peaking from behind the clouds more and more often, and the thunderstorm-related static decreased to S3-S5 as the storms moved further East. In addition to that, I was able to get to the planned operating location with no issues. I spent there approximately one hour, logging 16 contacts. It was still quite noisy, and once there were no more takers to answer my calls – I packed up and started my drive back south.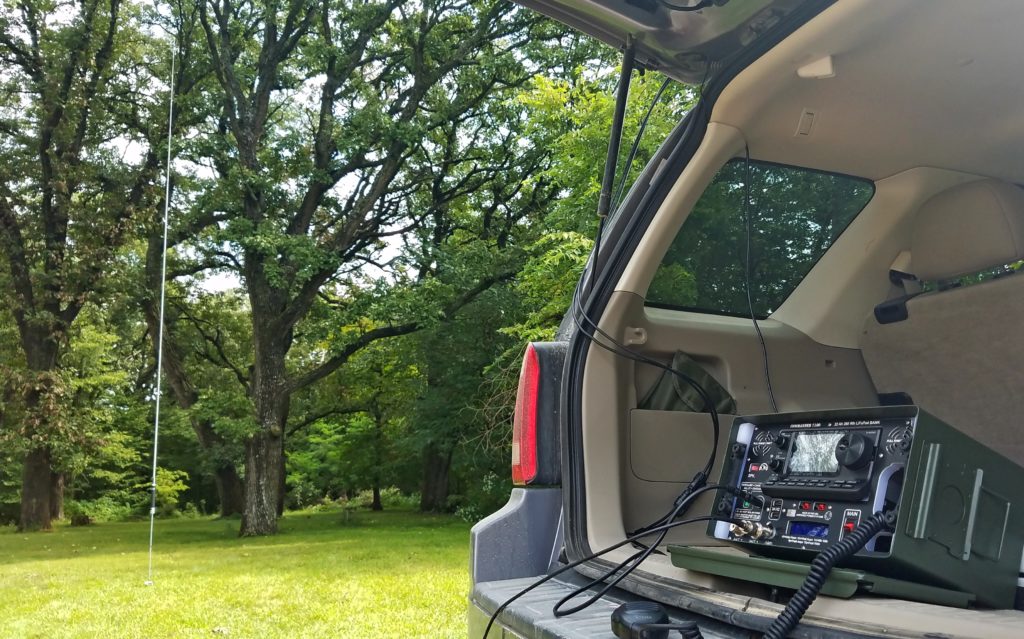 Before returning back home, I planned to activate another small park in Council Bluffs, IA, just across the river – Gifford State Forest. The challenge with this park is that it is basically one block full of trees, with no roads going into the park. Thus, I planned to pull on the side of the road and walk into the park. However, these plans were fated to fail today, as I met the "Road Closed" sign before being able to approach the park.
All summed up, it was a pleasant outing. I had a lot of fun, as usual when I deploy my station in the field. It is great to discover new places not far from home (useful for potential hiking and/or camping!), it is fun to set up the station itself in different spots and to improve your efficiency in getting on the air in just a few minutes. It is usually a rewarding experience to talk with different people, from all across the country – as many of them are also venturing outdoors this weekend. I ended up with 26 contacts in my log, including 5 park-to-park contacts. One of those was also a SOTA station in central Oregon (Ron W6PZA), and we had a nice chat with him. Contests and thunderstorms aside – conditions weren't all that bad, as I talked to stations from OR to MA to FL. While the weather is still nice, I can't wait for the next opportunity to get outdoors and get on the air!