Earlier on this trip:
After spending a couple hours at Mount Rushmore, we continued our drive to Badlands National Park. It was a sunny warm day, and we could tell that, together with the scenery, the outside temperature changed too as we descended from the mountains. And the landscape – it was such a contrast between a mountain forest in the Black Hills, and grasslands and plains that we were driving through just about an hour after! Getting closer to our destination for today, the views around reminded me somewhat of my trip to Death Valley National Park in December 2015. That being said, we took the Hwy 44, and weren't even close to the most beautiful part of the park!
We chose to camp at the Cedar Pass Campground not far from the small city of Interior, on the southeast edge of the park. As the day was well into the afternoon when we arrived, we decided to begin our acquaintance with the area by treating ourselves to a bison burger lunch at the Cedar Pass Lodge just next to the campground. The lodge is also close to the park's visitor center, and offers a very good selection of local souvenirs.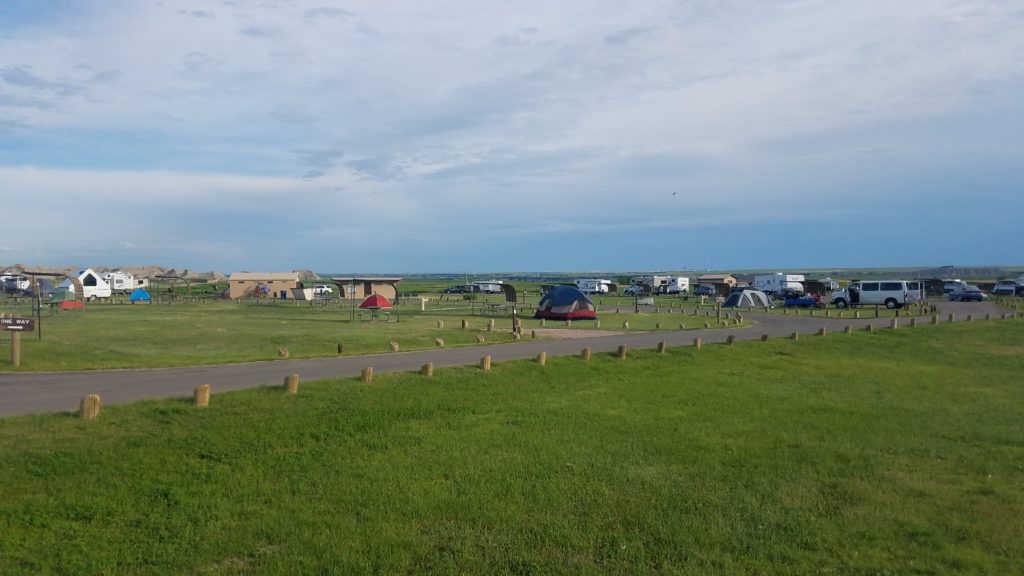 There is not too many options for campers in the Badlands area. The campground that we made our base for the night may not be the most scenic one, or may not offer that much space at every campsite – but it was very conveniently located, had nice clean modern facilities (though most, if not all, of the sites are non-electric), was well-maintained and provided enough space to feel comfortable. Please note that this campground does not allow campfires (note that there are no fire pits on the campsites) – thus be prepared with some ready-to-eat meals, or better take that little gas stove with you! Campers can also enjoy views of the Badlands in the west-northwest. What I definitely suggest is to book early: I booked approximately 2 months in advance, and grabbed one of the last spots. When we checked in to the campground, there were no spots available.

After spending some time at the camp (as in other parks, I took a moment to set up my portable radio station for a quick POTA activation), we headed out to observe the sunset. After consultations with some locals and park rangers, the Panorama Point overlook was chosen as our observing spot for tonight. It is an approximately 10-15 minute ride from our campground, although you may be tempted to stop at other overlooks. Unfortunately, the weather did not fully cooperate with our plans: the sky was mostly cloudy, and the sunset itself was mostly hidden behind a mix of haze and clouds. However, it did offer us some nice views of the surrounding rocks painted in pretty colors, and a lovely quick chat with a couple driving back home from their trip to the national parks in Utah and Arizona.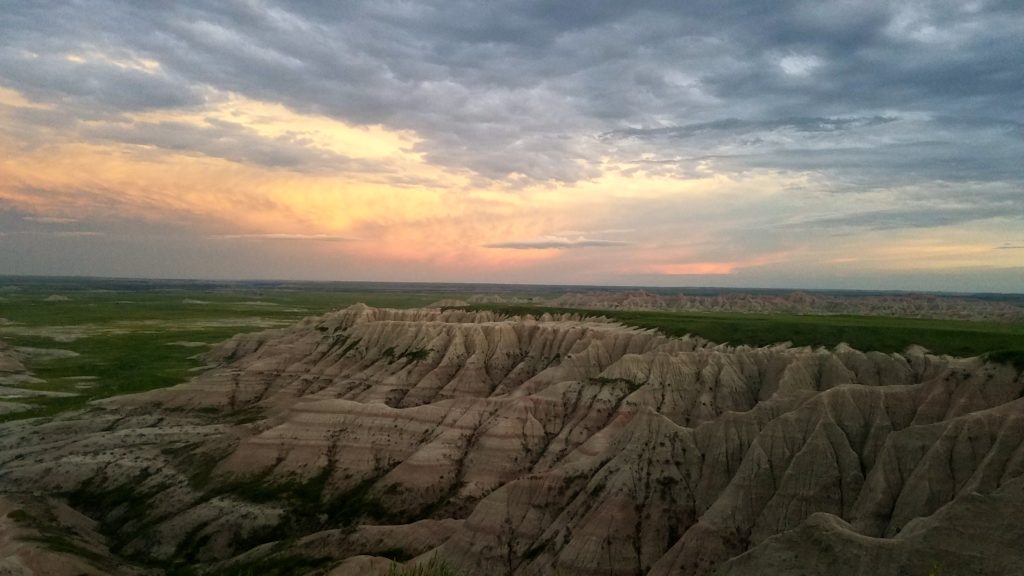 If you think that we felt our mission was completed at that point – you don't know us well enough! We returned back to our camp closer to 10 PM, and set to wake up at 4 AM next morning to welcome the new day and enjoy the sunrise at a different overlook.
We left our camp in dark, and after a short ride arrived to our vantage point – a rock cliff by the Door and Window Trailheads. It was a quiet beautiful morning, and the pastel pre-sunrise colors certainly gave this place a unique appearance. We spent a couple minutes figuring out where the Sun will appear from and how to better position ourselves for a perfect shot, only to realize that while we were at a great spot – it wasn't just the right time of the year. Less than two weeks away from the summer solstice, the Sun rises close to its farthest northeastern point – and rises behind the rock. There we have it – a good excuse to come back in spring!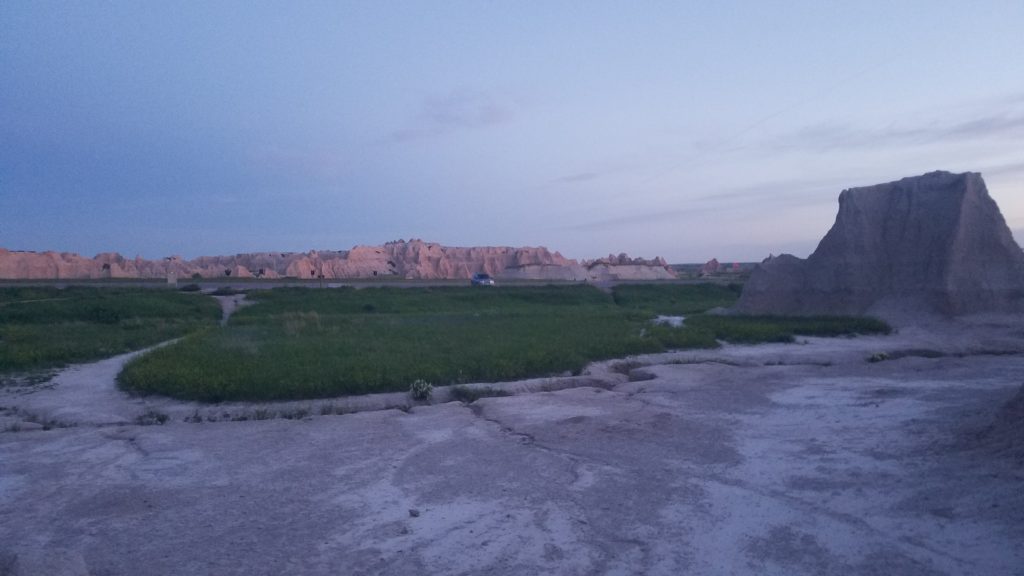 ---
---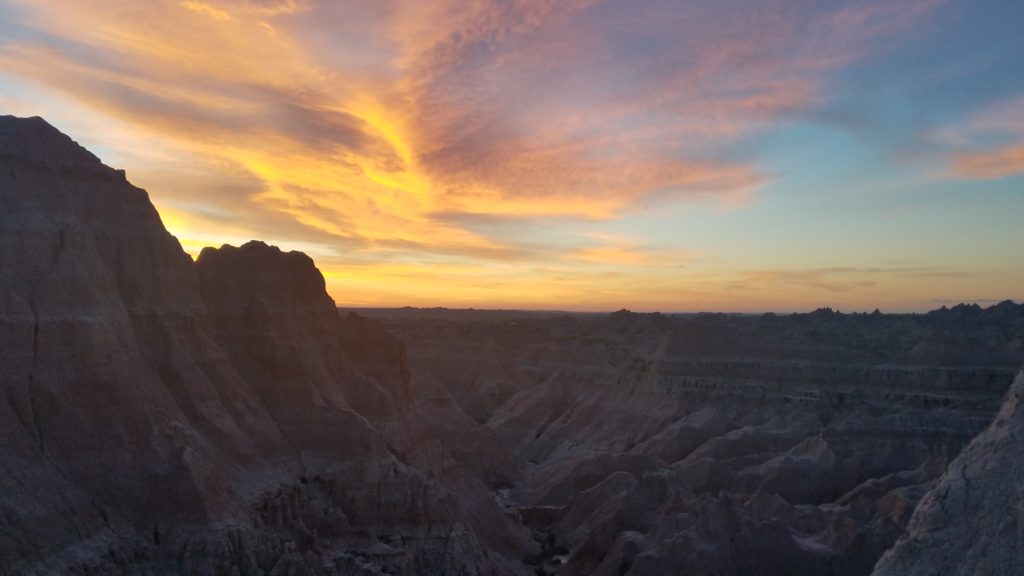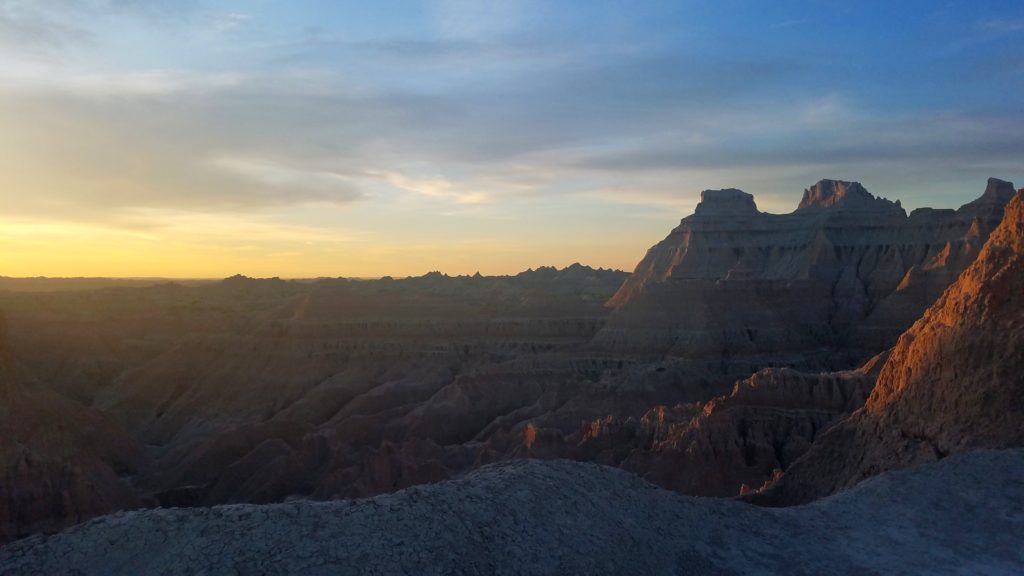 With the Sun up and shining brightly, we headed back to the camp for a quick breakfast. Today's plans included packing up, driving along the scenic Badlands Loop Road, and beginning our drive back home.
To experience most of the versatile scenery of the Badlands in just a few hours, take a stretch of the Hwy 240 known as Badlands Loop State Scenic Byway. The road follows the northeastern part of the Badlands National Park, with a gravel spur – Sage Creek Rim Road – leading into the Badlands Wilderness Area. It features over a dozen overlook points that represent a full spectrum of diverse natural landscapes of the Badlands. Every overlook also has a brief information board that introduces the place and its unique features to the visitors. It is approximately 30 miles long, and may take you anywhere from 2 to 4 hours, depending on how long you spend at each overlook.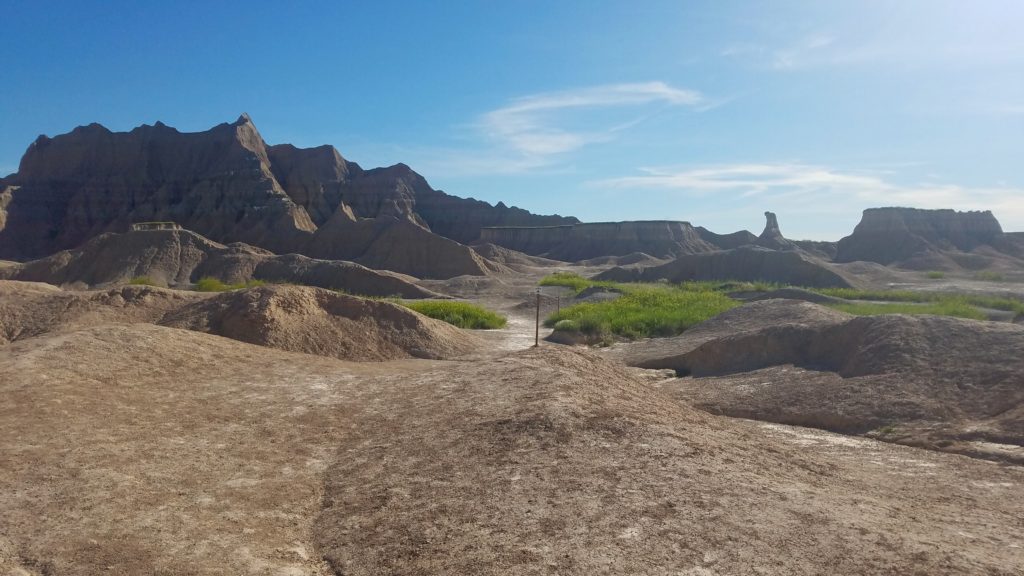 At the Fossil Exhibit Trail stop, you will find a short trail that leads you through the geological history of the area, and visually illustrate how fossils are formed and what can they tell us about the ancient life in Black Hills and creatures that inhabited this land long time ago.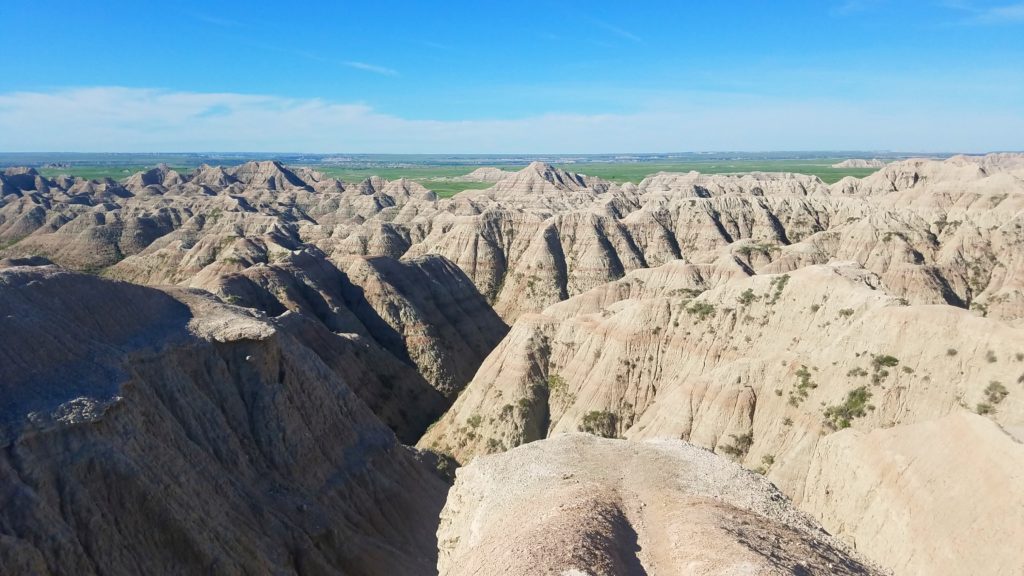 ---
---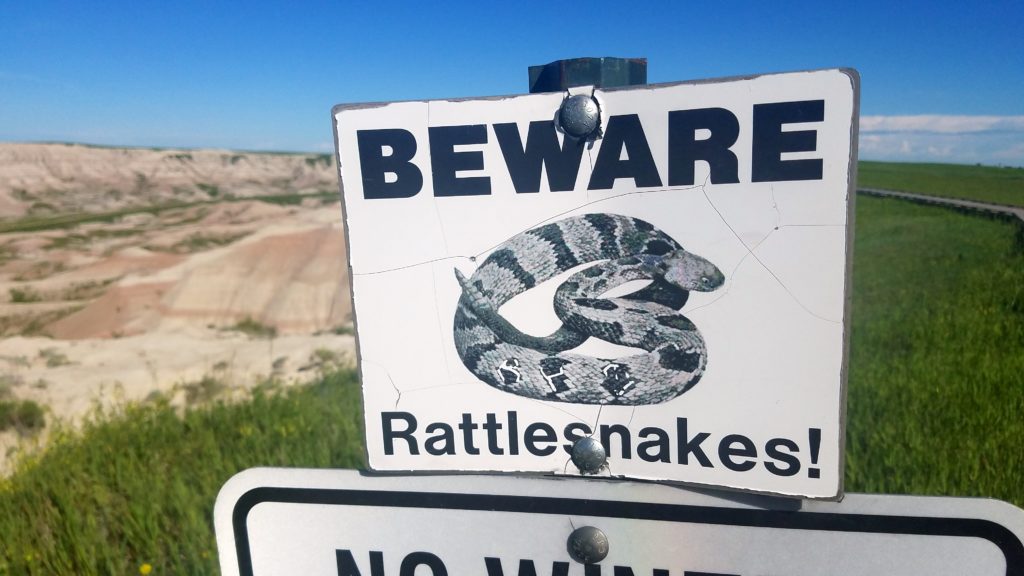 Some of the overlooks also provide access to short trails, in addition to a system of trails that go deeper into the canyons and cliffs of the Badlands (the trailheads are mostly located in the eastern part of the park). If venturing out along these trails, and particularly if you're heading off the beaten path – beware of rattlesnakes that are at their home here! Common sense and usual precautions are also to be used if you favor some off-road camping (which is allowed, with restrictions, throughout the park). Although I assume that if you're that adventurous – you're well aware of all safety measures that will make your trip a great time outdoors!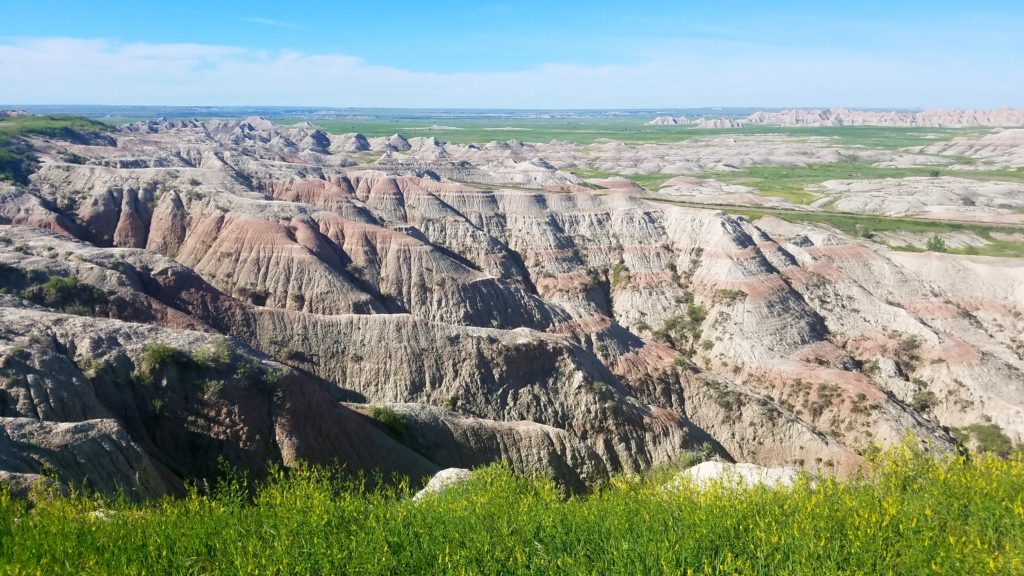 After making stops at multiple overlooks showcasing abundance of rocks and canyons, an interesting change of scenery suddenly happened on our approach to the Prairie Wind overlook (although probably should not be sudden given the name!). I just couldn't get over the amazing variety of landscapes here – definitely one of my favorite things about road trips! This emerald-green prairie looked just picture-perfect, somewhat reminding us of the Bliss – a famous Windows XP wallpaper.
Just before beginning our ascent to the road's highest point – the Pinnacles overlook – we stopped for another pattern change. This time, the yellow-colored layers of the rocks, otherwise rare in this area, attracted our attention. They created a beautiful transition between the green grass of the canyons and the pastel shades of red, brown and gray of most of the rocks around. This place reminded me somewhat of the Artist's Drive in Death Valley.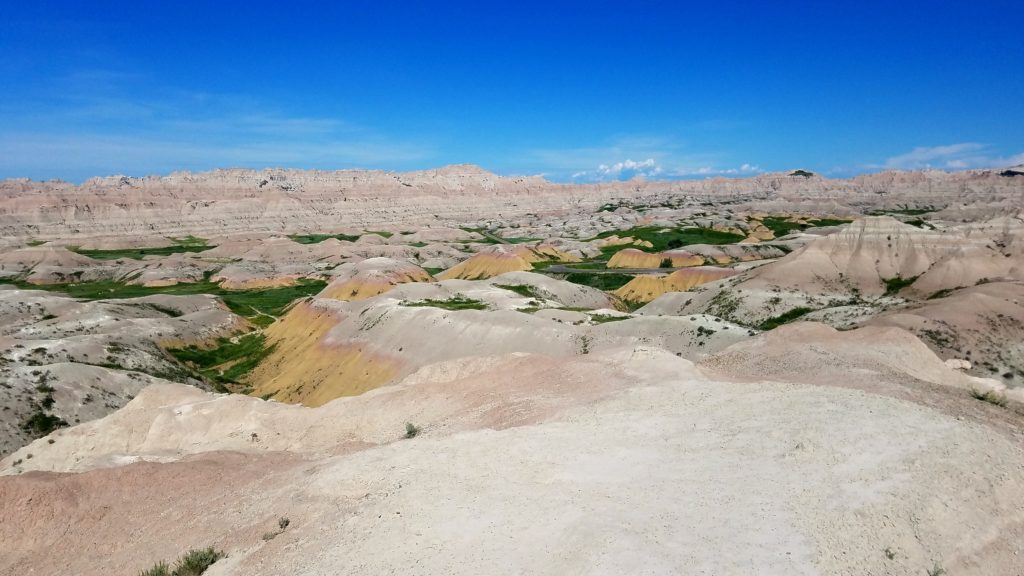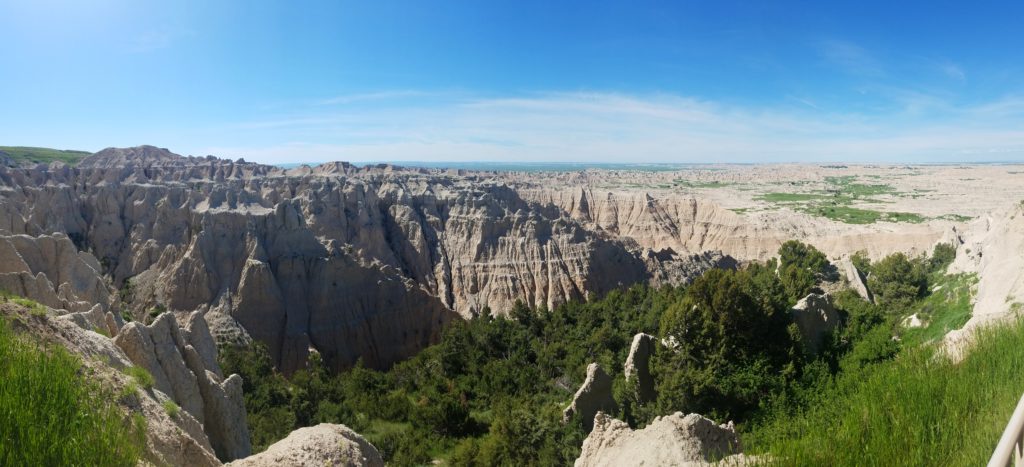 Everywhere I go, I try to get up to the highest point and enjoy the view. And we were not disappointed this time either! The Pinnacles overlook opens up a gorgeous perspective of the Badlands, together with the emerald prairies of the Buffalo Gap National Grassland extending well beyond our sight. We also had a chance to appreciate the richness of the wildlife here, as we observed a large group of mountain goats grazing along steep cliffs and walls on the left side from the overlook. We spent quite some time trying to figure out how (and why?) they managed to get all the way up there!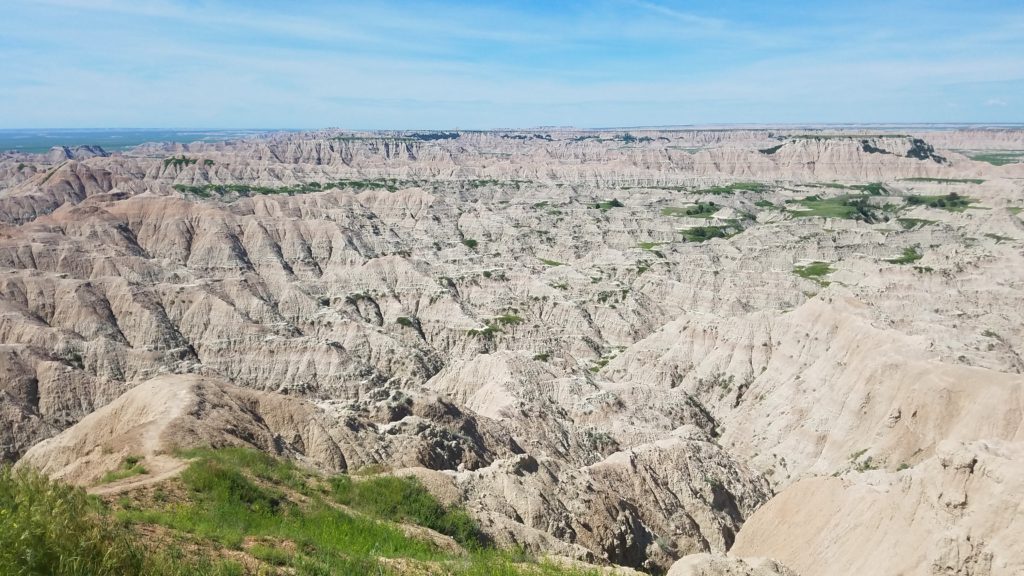 Continue the wildlife topic – after descent from the Pinnacles overlook, we took a slight turn left onto the Sage Creek Rim road, a gravel spur road that continues along the park all the way to its second campground – Sage Creek Campground (make note that it has no water and no facilities, and provides primitive camping opportunity on a first come first served basis). The road also has several overlooks, but is rather remarkable for some wildlife that you may have a close encounter with.
The Roberts Prairie Dog Town was our first highlight of the day. There are dozens of these little funny furry critters that formed some sort of a colony on a relatively small patch of the prairie. They are definitely fun to watch, as they communicate with each other and alert their neighbors of the visitors (us).
And then there were bisons. Big herds of those majestic animals roaming around at a certain distance were certainly exciting to see (that was our second encounter with them after the Wind Cave National Park area) – but we did not expect a chance to get up close to several of them! While driving, we saw a bison leisurely strolling along the road. He is at home here, and clearly doesn't care about us trying to make our way through. And you definitely don't want to disturb the animals in their natural habitat – which is why we just patiently waited, following him slowly (at a safe distance) until he finally decided to step to the side. I have to say there was something extraordinary in that feeling when I drove just barely a few feet from this giant, weighing almost as much as my car!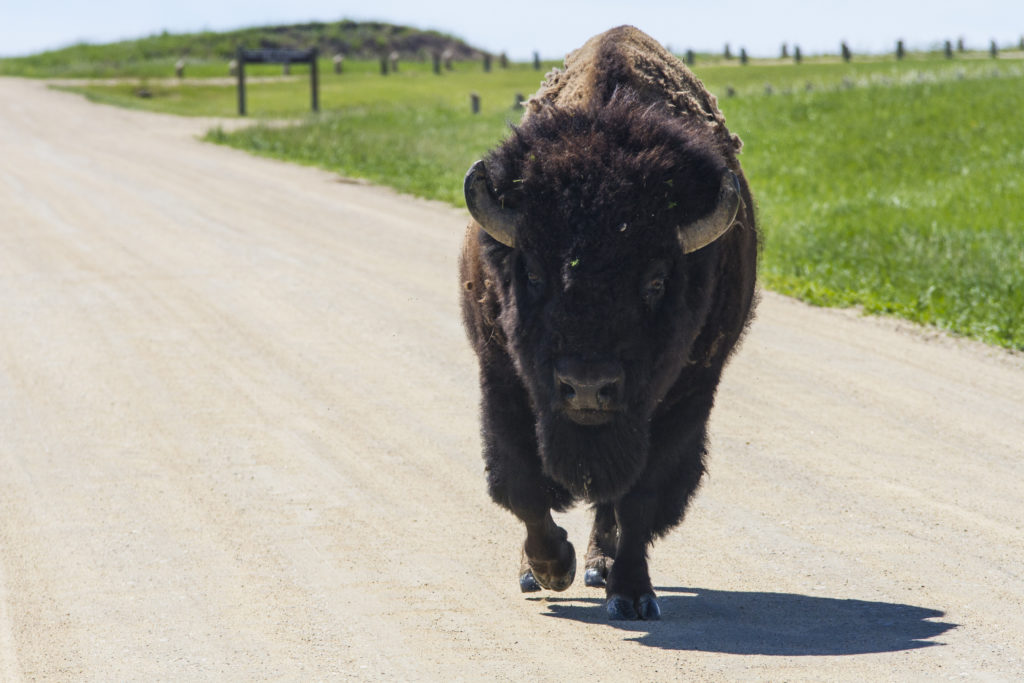 As with many places, images can't really tell how beautiful the Badlands are! I will be honest – in my original plan, I thought of just driving through the park on our way back home. We then changed it and added a night there, and I'm glad that we did! In fact, we could've spent much more time there, as we didn't do much hiking at all. Depending on your plans, Badlands can totally be a great getaway destination on its own!
Later on this trip: