This past weekend several friends and myself decided to go on a little adventure to Sherman Reservoir State Recreation Area near Loup City in central Nebraska. I heard about this relatively big artificial lake, but have never camped there before. According to the information that is available online, it is a rather large park, offering approximately 350 primitive campsites on several campgrounds located all around the reservoir. The park does not take reservations, and my attempts to call the park office and get some more information were unsuccessful (unless I wanted to leave a message, which is by far not my preferred way of communication in such cases) – so we loaded our cars and hit the road on muggy Saturday morning.
And when I say muggy – I mean it! The dew points climbed up to low 70s, and even without direct sunlight there was no freshness in the air whatsoever. Let alone when the Sun peaked from between the clouds – needless to say that we were very excited about finally getting to the lake and jumping right into water! Well, it wasn't that simple.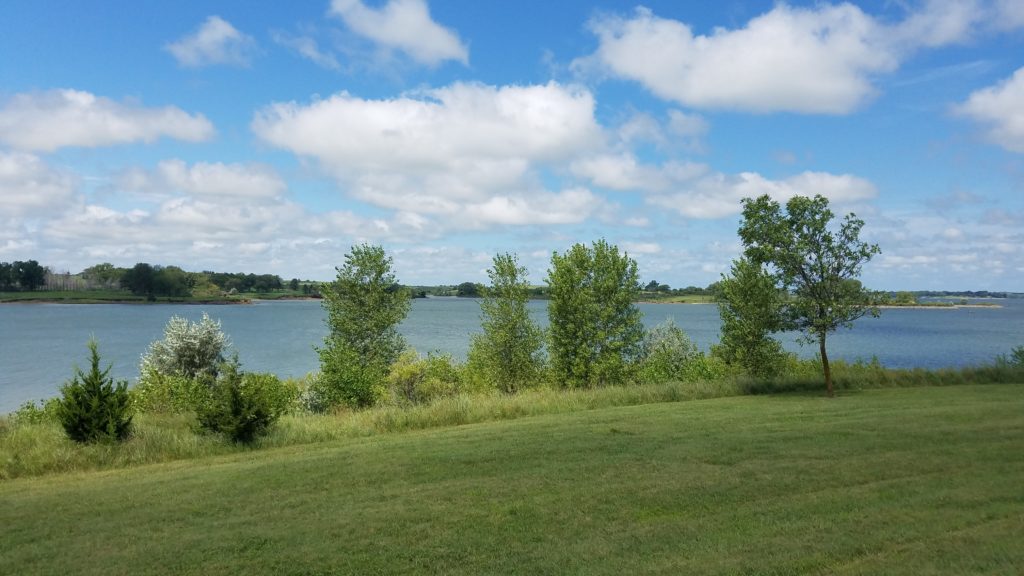 Our first impression when we got to the park – it was fairly empty. And by that I not only mean lack of people camping (there were several RVs and a couple of tents scattered among at least 5 campgrounds that we scouted) – there were also no information about the park, and no sign of any camp host or somebody alike. Our site survey showed that the reservoir was mostly surrounded by cliffs and had almost no direct water access, except a few boat launch sites. No single beach on the whole lake. The gentleman in the corner store at the entrance to the Sherman Dam Rd suggested that we check the Ash Canyon Campground in the southwestern part of the reservoir – and it turned to be as good for us as it could! An important note to those who do not have annual Nebraska parks entry permit: you no longer need to figure out where to buy it separately from paying for your camping. For added convenience, both entry and camping are now on one single slip that can be found at the self-registration stations. Nice job, Nebraska Game and Parks!
---
---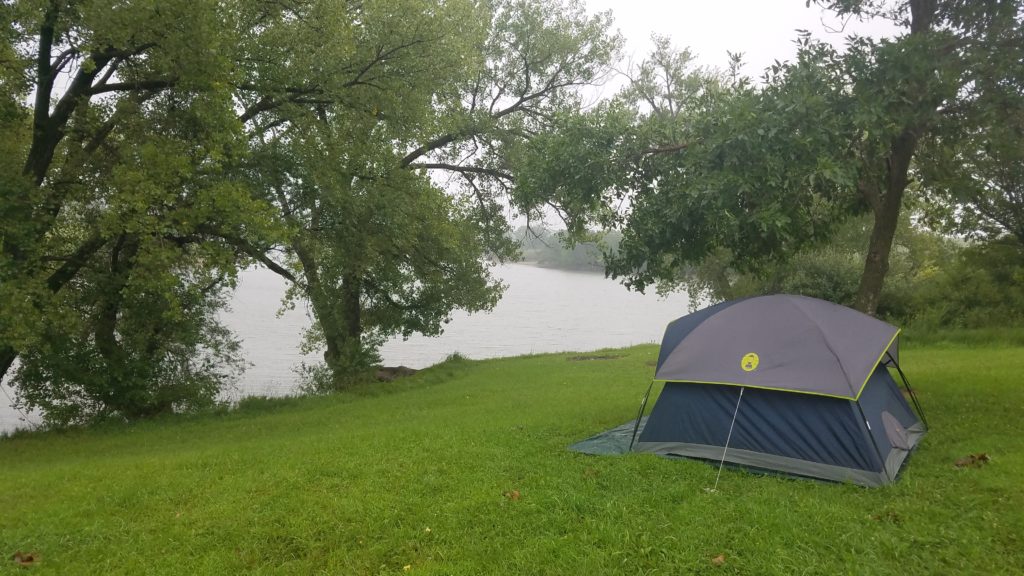 We set our camp on a lovely field with a few fire rings, a water spigot, and a nice convenient access to water. Not that we looked for a swim at that time (and, unlike for example Lake McConaughy, water there didn't look very inviting for a swim) – but it was just nice to come down, hang around and even try some fishing. In hopes of seeing something more than just Perseids (that peaked around this past weekend), I even brought my telescope – however, due to clouds we ended up seeing nothing at all. Of course, had I not brought the scope – we'd have had a perfect clear sky all night! 🙂
Instead, we were caught by some rain while grilling hot dogs on the fire, and eventually had to retreat to our tents. It wasn't storming as bad as it was in southwestern part of Nebraska – but we did see some intense lightning after midnight. Next morning greeted us with fog, haze and strong wind – but we knew that this meant: we will see the Sun again pretty soon. In addition to that, humidity significantly subsided, making Sunday a very pleasant day to enjoy the outdoors.
On the other side of the things, I had an additional bonus at Sherman Reservoir: this park is on the list in the Parks on the Air program (designator K-5629), and it has never been activated before! Thus, I took some time to set up my station in a beautiful parking overlooking the reservoir and the Sherman Dam, fired up my radio and tried to make some contacts. And to my surprise (and most certainly a great luck!) the bands opened up for me, and I scored 38 QSOs in a little bit over an hour. Of course, it was preceded by some time of calling CQ into nowhere – but that was to be expected since I wasn't able to spot myself due to lack of data service (there is decent cell signal around the southern part of the lake, but no data). This time, my contacts included NASA Johnson Space Center radio club, a SOTA station in PA, and a mobile station in NM among others.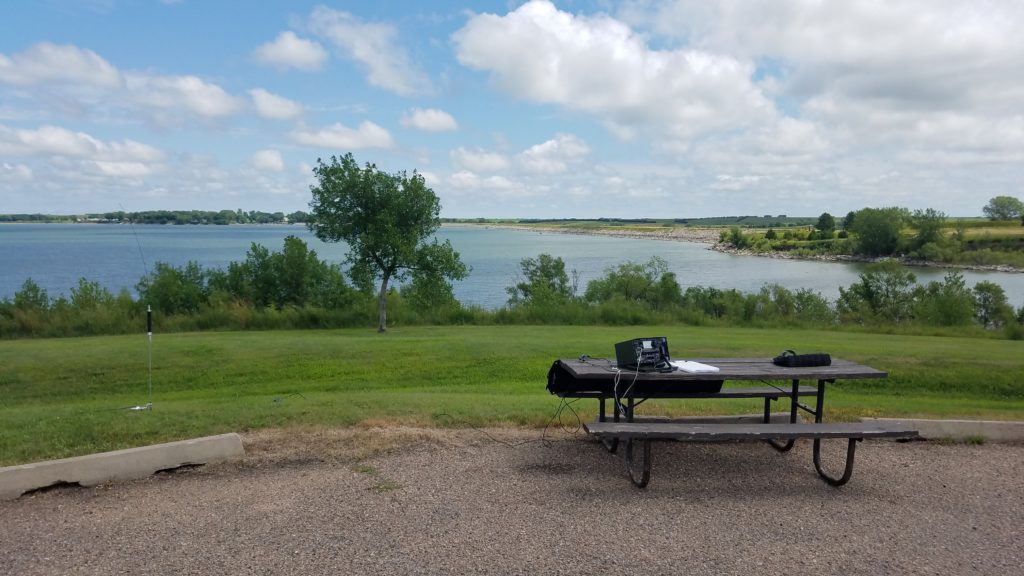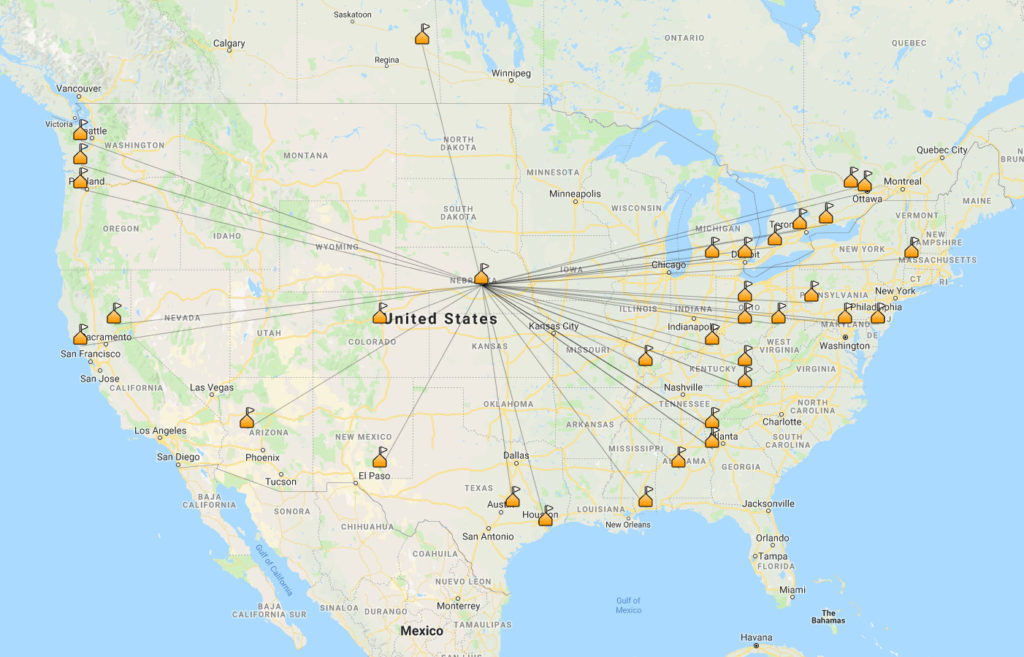 When I planned the trip, I noted another unactivated park along the way – K-5632 North Loup State Recreation Area. It didn't look like an independent destination to me, but I decided to stop on the way to our campsite and activate it as well. I actually thought it will be a quick one, since the Maryland/DC QSO Party was on the bands, thus I was sure I will make a needed minimum of 10 contacts in an instant. However, Saturday was not my day on the air: the bands were so bad that I barely heard a few contest stations, and was only able to make 3 contacts in over an hour…
Inspired by the success of the Sunday activation just before we left, I decided to give the K-5632 another try and stop there on my way back – and I was rewarded: so far a clean sweep of 17 successful activations! I scored 18 contacts in less than 45 minutes – and was back on the road to get back home for dinner with a friend. It was great to hear all the POTA frequents on the air – many of whom waited for me to drive to the next park to support my second activation. And a true highlight of the day was making a park-to-park contact with AB2XG in upstate NY, who said I was his first park-to-park QSO. Job well done, and I wish you many more!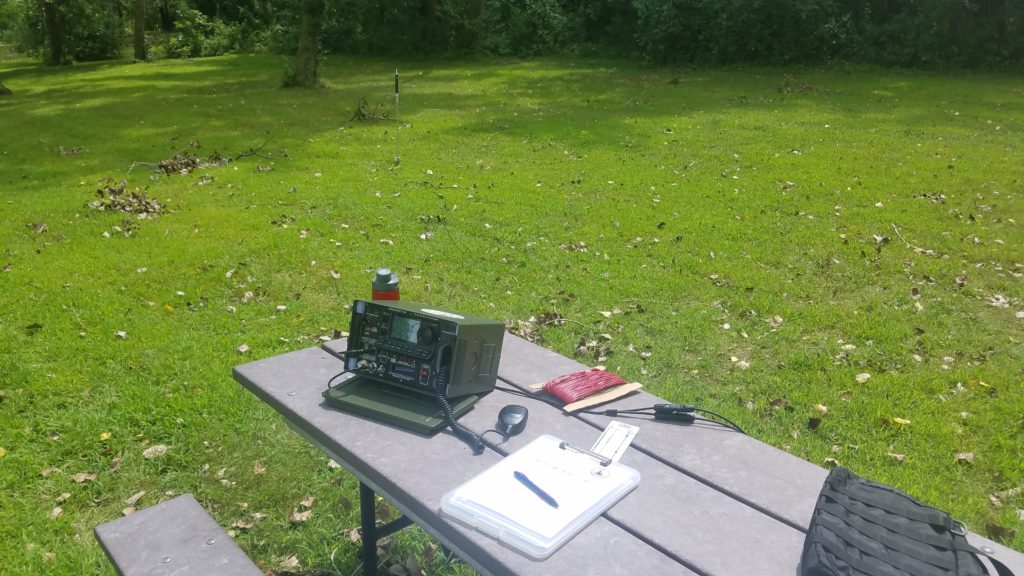 ---
---
It was a good time – in a company of good friends one will always find what to do and how to enjoy the time. The weather was not ideal, however did not interfere with our plans too much. Plus, I don't mind some rain while camping, it's all the matter of being ready for weather. The park is huge, and the reservoir offers some pretty views. It is great for fishing and boating enthusiasts – just not my cup of tea. As usual, I had a lot of fun on the air. Would I go back there? Probably not, but this time we certainly had a great weekend outdoors!