Traveling, camping, and being outdoors in general has been one of my favorite activities for years, but as recently as just one year ago I didn't quite see myself getting into field radio. It all changed in late spring, when I read a post on QRZ.com about various radio go-kits. It was also an active period for me when I was preparing for a road trip across Nebraska and to South Dakota – so I though "why not taking a radio with me?".
Going back even earlier – during my first months working on HF bands, every once in a while I heard people calling "CQ parks on the air". I didn't quite look up what that was about, but I tried to respond to such calls since I realized that they are operating from the field, which obviously takes more effort and skills. Little did I know that I will be bitten by the POTA bug and join them soon, calling the world from my car, a park bench, a chair on top of a dune, a tree stump in the woods – you name it!
What is POTA?
The Parks on the Air program is inspired by the National Parks on the Air event that was run by the ARRL in 2016 and commemorated the centennial of the National Park Service. A team of dedicated enthusiasts redesigned and significantly expanded it to include state parks, and much effort was put into involving multiple other countries worldwide. The main idea is to encourage field radio operation in conjunction with exploring the natural and historic heritage of the country, and raising awareness of both.
---
---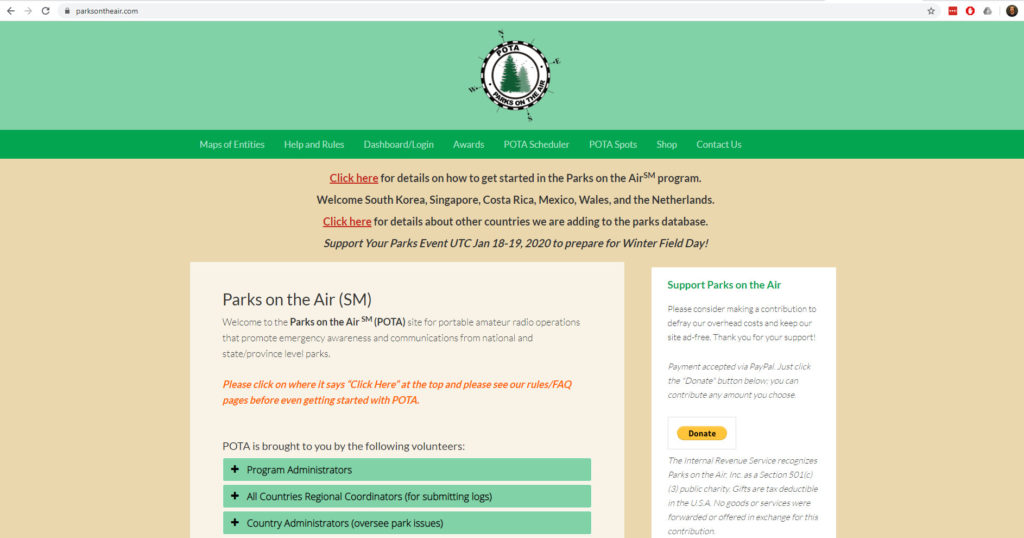 There are two ways of participating in the program. You can be a hunter – the operator who looks for those calling from the parks and makes contacts with them. On the other hand, you can pack your gear and go to the park – thus becoming an activator (and hopefully logging a minimum of 10 contacts to make the activation successful!). You have to be registered on the program's website to be able to send activation logs and to receive credit as both hunter and activator. There are currently around 940 activators and almost 2800 hunters registered in the program. Approximately 800 and 900 of them, respectively, were active in 2019.
What do I like in POTA?
This is the question that I'm asked frequently – yet I still struggle with a short answer 🙂 First of all – this program is a fun activity. I nicely combines two of my hobbies – amateur radio and being outdoors. Working from the parks presents its unique challenges that motivate me to improve my skills, experiment with technology, and sometimes test the limits of my equipment and my abilities. All in all it can be viewed as an exercise in emergency field communications – most of the times in exceptionally beautiful places.
It is certainly much better for your health to breathe some fresh air rather that sit in the shack all day long. And I'm telling you – you can have a shack with the view of a lifetime! The peace and quiet of some parks are as supportive to working a nice pileup as huge crowds in the others call for you setting your activation goals a little aside and being a good ambassador of your hobby.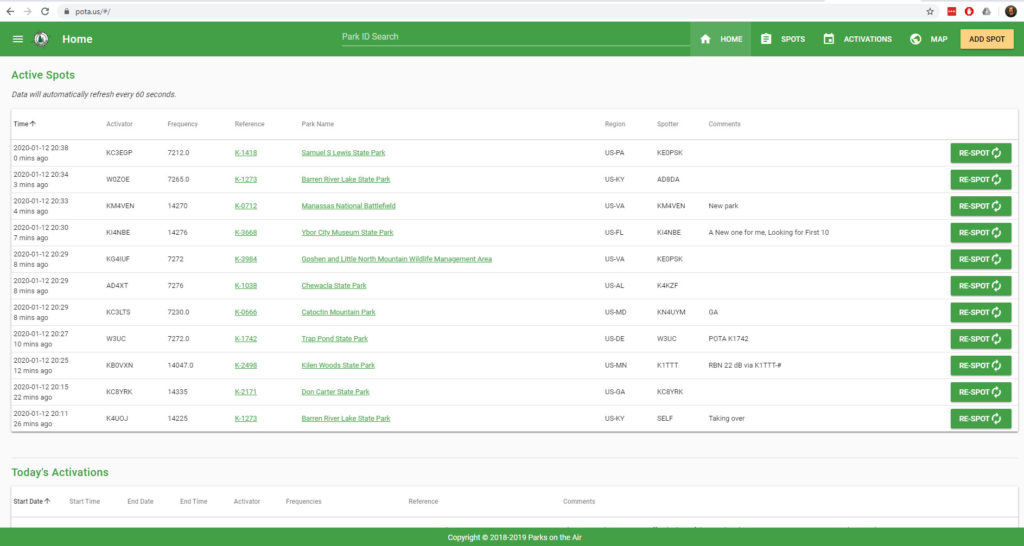 Last but definitely not least – it's all about people! And the POTA community is made of the finest and friendliest radio amateurs you can meet. It is a true pleasure to work both hunters and activators on the air – in fact, most of the time such operations may be used as a textbook example of the Code of Conduct, as well as the great practical operating skills. Everyone is also very welcoming and helpful in both POTA Facebook group and their Slack channel.
What I don't like in POTA?
Well, this question will be even harder to respond to… I will sound silly, but the POTA withdrawal is my least favorite effect of participating in the program 🙂 Diving back to work routine after a fun successful activation is hard, and you will soon be obsessively looking at your field gear sitting in the corner. The phone melting in your pocket from all the spot messages from Slack will disrupt your work and make you want to have an HF rig right on your desk. Winter doesn't make things easier either – even if you have some time, the weather may have other opinion on how you will spend it.
---
---
There were some discussions about the list of the parks that are included in the program, and some of the notable parks missing from the list in many states. The list of US entities is currently undergoing a major audit by the POTA leadership team with help of local volunteers. Thus, a great program is on its way to become even better soon!
Hunting the parks
As I mentioned earlier, I started hunting the parks before I even knew I was doing it. By the time I consciously decided to participate in the program in late May 2019, I already had more than 20 logged contacts. Thus, immediately after the registration I was surprised by my first two awards: Bronze (for 10 conacts) and Silver (20 QSOs) Hunter certificates. You can find out more about the POTA award system on the program's website.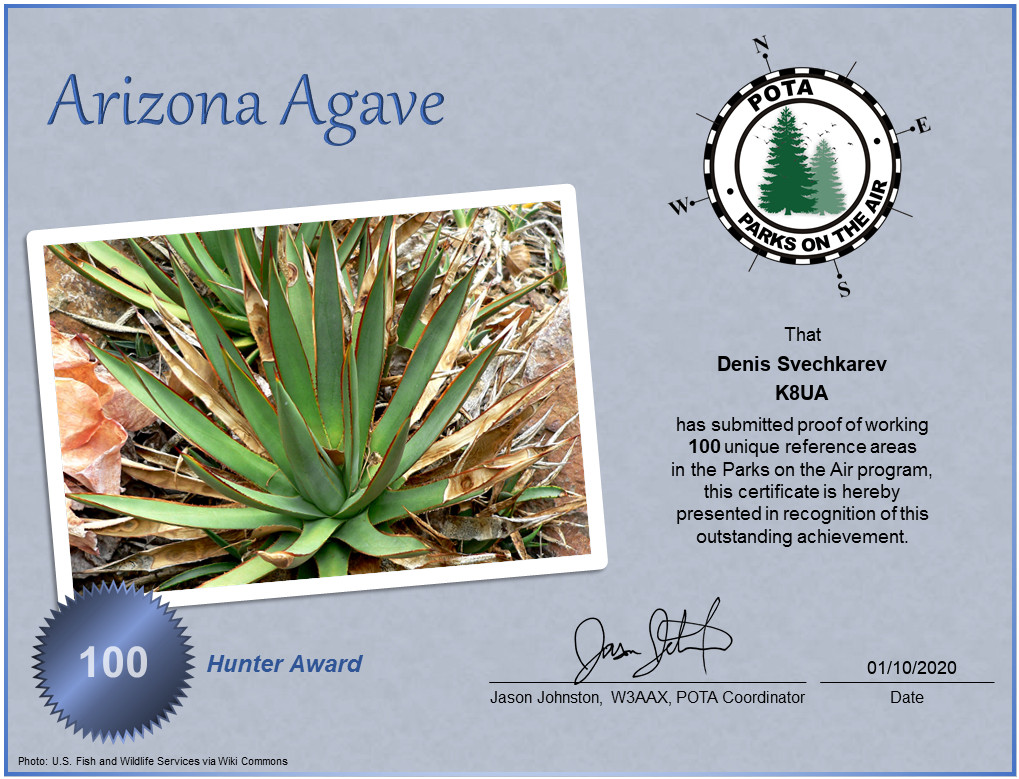 Overall during the past season I was able to hunt a little over 100 unique parks. I have to say that I am not the most productive hunter for several reasons: I don't have a lot of time, particularly during the work week when I'm away from my station almost all the time; there may be 10+ spots on the website, but I will only hear a few with my somewhat compromised base antenna installation.
Activating the parks
Activating (i.e. working from the parks) is by far my favorite activity! Since I purchased my first field HF station and activated the first park, I tried to plan a park outing every once in a while. It all started with the road-trip across Nebraska to the Black Hills and Badlands of South Dakota, where I integrated the activation of four parks. It was a true test for my then-new field station, and I was very pleased with its performance.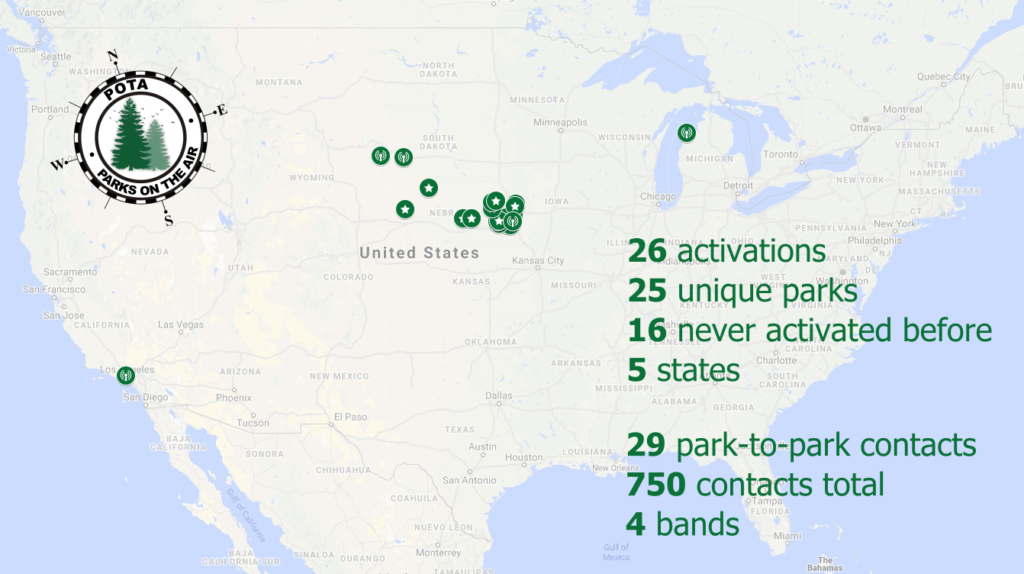 My goals and priorities as an activator evolved throughout the season. After I came back from my camping trip, I started by focusing on Nebraska parks that have never been activated before – and ended up activating 14 of them within 2 hours driving from Omaha, plus two of such parks in Iowa. There trips ranged from full-day multi-park roves (sometimes in quite extreme conditions) to integrating radio activities into camping trips with friends, to spending some quality time at a single park, enjoying radio outdoors and testing new equipment.
I later "cooled down" with regard to this part of the race, since other never-activated parks were too far to easily justify a trip. In addition, many of those "new parks" that I activated were just little ponds with nothing around, that I'd otherwise never consider going to. I also became increasingly interested in building an ultra-portable station that I could take with me virtually everywhere. I purchased an Elecraft KX2 transceiver and a random wire antenna. After some research on a perfect travel-friendly mast and some thorough testing, the station was ready to be deployed.
---
---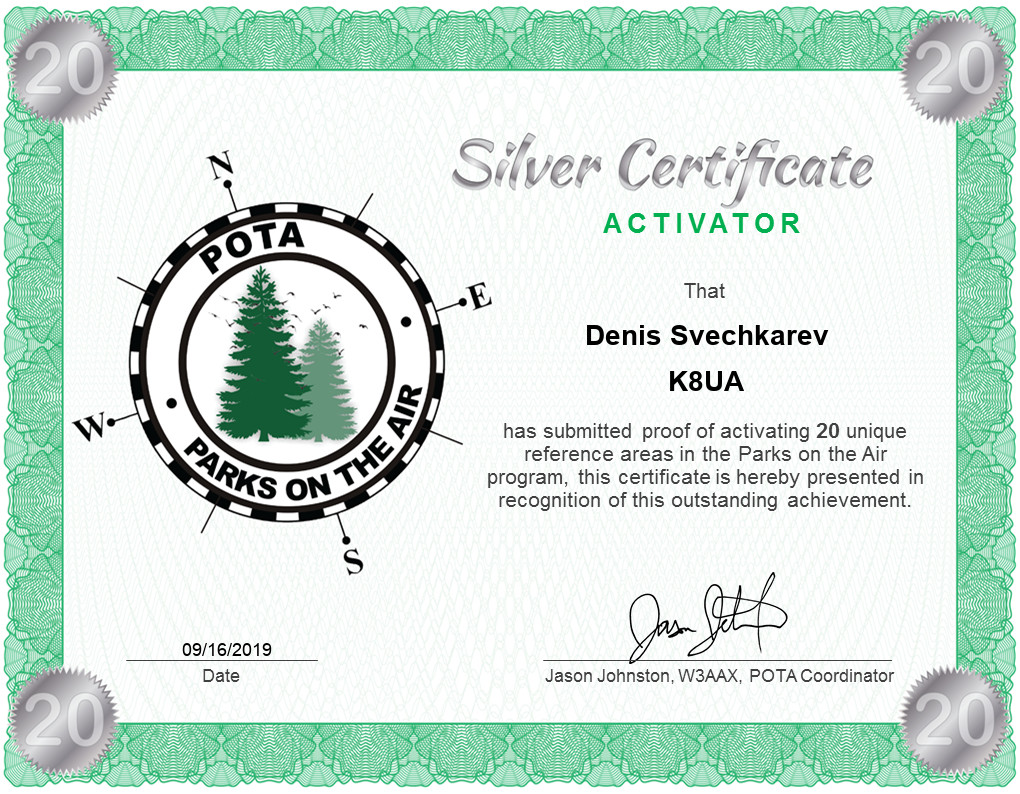 The great thing about my ultraportable station is that I became able to plan park activations in various parts of the country. Thus, when I ventured out to the Michigan's Sleeping Bear Dunes with a couple of my friends, I managed to devote several hours to get on the air from one of the highest spots in the park. Some time after, during my work trip to California, I used a break in the meetings to hike up to the Santa Monica mountains and spent an hour on the air with a gorgeous view of Hollywood hills, Griffith Observatory and downtown LA.
What never changed for me as the activator – is the fact that I'm having so much fun talking to people from the field! As I activated more parks and made more and more contacts, it became somewhat special for me to hear familiar voices and callsigns. A special treat is to make a contact with a fellow activator. It is also the hardest, since both stations are working from the field. I usually start my activation by browsing the band for other activators, and do the same whenever I finish my activation or switch bands.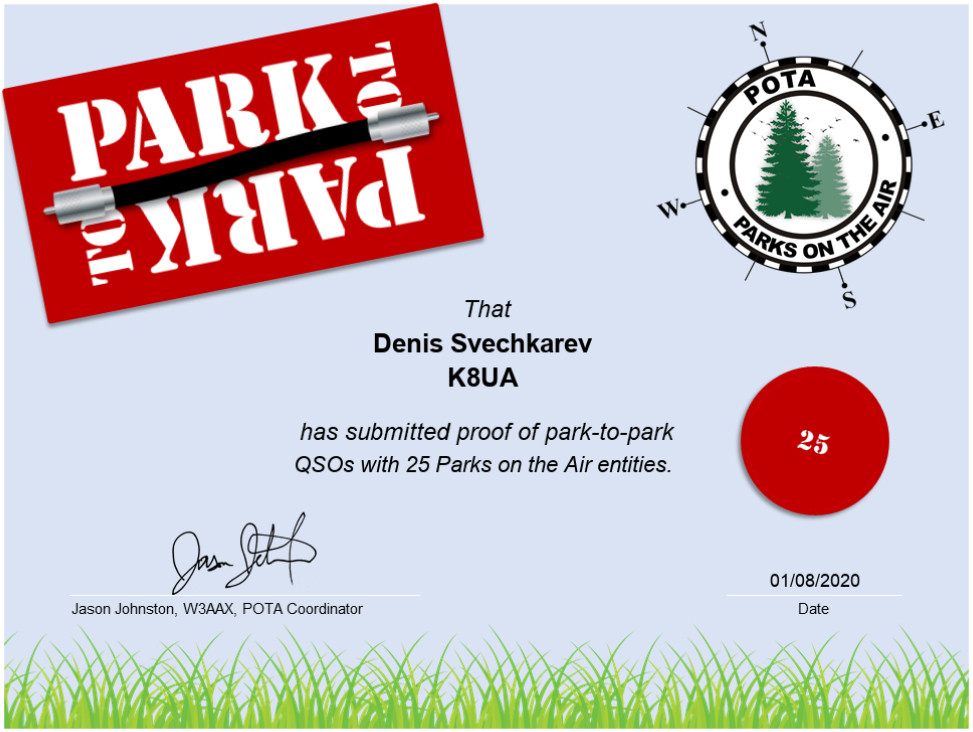 Based on plethora of advice that the seasoned activators share with the POTA community, and my own experience working in the field, I developed the successful activation routine that helped me stay organized, plan my park outings efficiently, and avoid the majority of unnecessary hurdles along the way. In order to streamline logging in the field, and optimize log submission after the activation, I also started logging electronically using an app on my phone or tablet. This allows me to avoid typing my whole paper log manually after coming back home. Among the skills that POTA made possible for me to learn is, certainly, the ability to efficiently handle radio traffic during a pileup. A very fun situation to be in, but sometimes can be quite stressful!
Looking forward
Needless to say that I am very much looking forward for the next POTA season that just started! What am I planning to accomplish? Well, I don't set goals since I just want to have fun. I would like to add more states to my list, and taking my ultraportable station on various trips will certainly help. I will certainly go out to local parks, even if I activated them before. This will give me an opportunity to experiment. For example, I really want to try to incorporate SSTV into my park activations. Gonna be an interesting year!