Today marks exactly one year since I made my first logged contact on high frequency amateur radio bands, or simply HF. During this first year, I made a total of 955 contacts. I worked on all bands that are available for my current antenna (I only made 4 contacts on 80 meters, thus it didn't quite make it to the infographic below).
Due to the fact that my antenna configuration is still quite compromised, and taking into account the prevailing band conditions, it is also natural that most of my contacts are within the continental US. However, I did make it to 20 other countries – and many of those were voice contacts! While I was quite active on FT8 in the very beginning, I spend most of my on-air time working SSB phone. I didn't acquire a portable station until very late in May 2019 – however, that did not stop me from making almost half of my overall contacts from the field.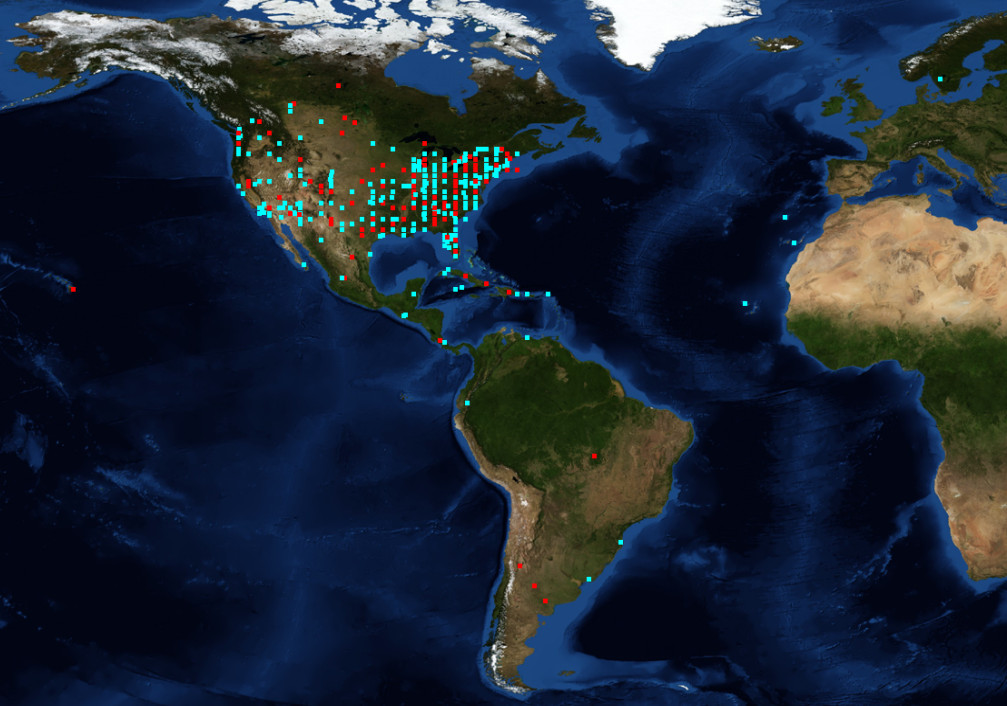 It has been an interesting and rewarding journey from knowing almost nothing and wondering if it is realistically possible at all for me living in an apartment – all the way to a versatile equipment park that allowed for a variety of activities and experiences. I'd like to share some milestones with you, mainly addressing this to those thinking about making your first steps on HF.
Getting started
I passed my General license test in mid-August 2018 (with a quick upgrade to Amateur Extra two weeks after), still thinking about whether or not getting on HF is for me right now in my current situation. It is common stereotype that HF has a much higher entry barrier compared to local VHF/UHF communications, both in terms of cost of equipment and space requirements. Of course, it is true to a certain extent. However, I passionately believe in start with what you can have, and see where you can go from there strategy – thus don't let restrictions stop you if that's what you want to explore!
As an apartment dweller, the main question I had was antenna. I researched multiple options, from stringing wires along the walls (which would neither look good nor make the landlord happy) to using loaded verticals (which still require radials for best performance, hence not realistic without at least a balcony).
The solution that worked for me was a loop antenna with a tuner. It is fairly compact, enables you to work on multiple bands (though 40 meters required quite a large loop, and anything shorter than 20 meters is rarely usable nowadays), and does not require any permanent fixtures for installation. It worked surprisingly well for me in my first few months on the air – I was able to make 100+ contacts with it. Most importantly, it reassured me in sustainability of my interest.
---
---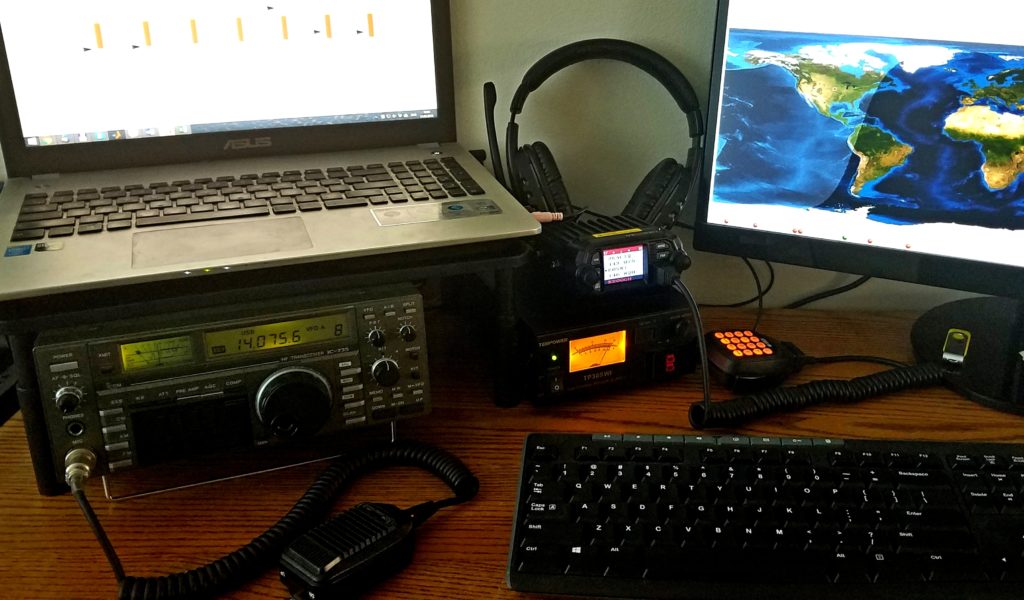 I was fortunate to have a friend who let me borrow one of his HF transceivers for my tests – otherwise, my upfront investment would've been several hundred dollars higher. It was an older Icom IC-735 that was a very solid performer, and taught me a valuable lesson of being able to browse the bands without the spectrum scope 🙂
My plan was to try the loop tuner, and if it worked – to purchase my own rig. If it didn't – I just planned to sell the tuner and wait for better times. One thing that I would like to mention here: don't be afraid to purchase a piece of equipment to try it, if you can't borrow it from a ham friend. Of course, everything has its reasonable limits – but secondary marked of radio equipment is very well developed, and if you take a good care of your rig – you will always be able to sell it with minimal loss.
Setting up my base station
After making sure that my indoor antenna works for me, I had to choose a transceiver for my base station. At that point I was ready to make an investment, which is why I did not look too much into buying an older used rig (which otherwise would've been a perfect solution – so think about what works best for you right now!). There was a lot of reviews about the Icom's IC-7300 that, with no exaggeration, revolutionized the HF ham radio – and I didn't have to think twice. Almost a year later I have to say that it's an absolutely amazing rig for its price, and I never looked back!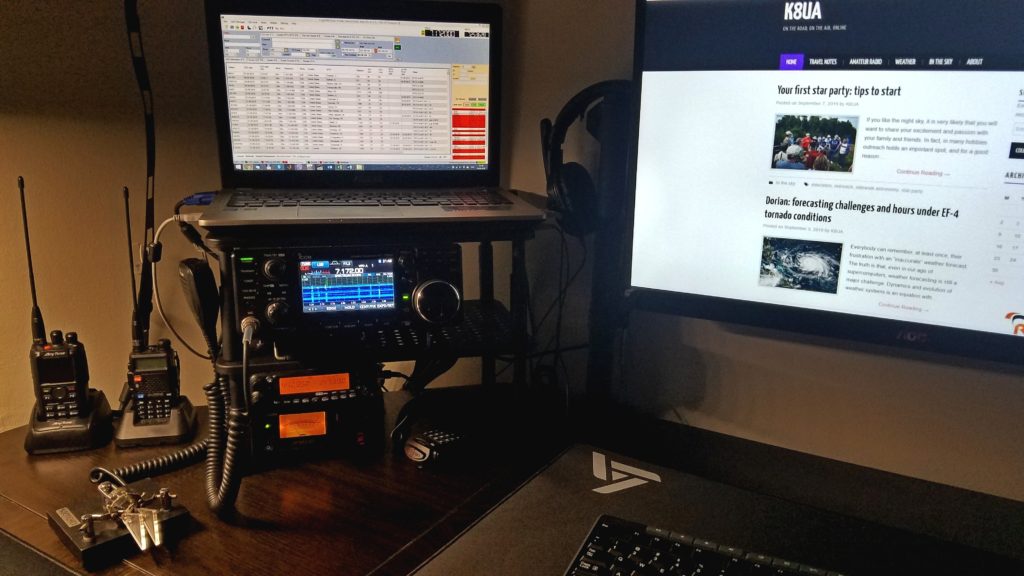 Another aspect in which I was extremely fortunate is that I was able to quite soon improve my antenna situation. My landlord kindly agreed to let me mount an antenna in the back yard of the building. Of course, there are some caveats (I will describe the installation in a separate post), but an outdoor antenna is by definition better that the indoor one. After several weeks of research and careful consideration of many options I purchased a Hustler 6BTV – a trapped vertical multibander, complemented with 18 radials. It works great on 10, 15, 20, 30 and 40 meters, and is somewhat narrow-band on 80 meters.
Operating modes
When I used an indoor antenna, I was limited to ~30 W of power due to exposure considerations, as well as some interaction with home electronics. With the band conditions being not great most of the time, SSB phone communications were quite challenging – however, I did make quite a few good voice QSOs.
Lower power requirements of digital modes, and their remarkable error correction features, got me quite interested in trying these. I got on FT8 mostly because of its simplicity and superior capability of pulling contacts from noise. I was also in the "testing mode" at that time, exploring the potential of my station – and FT8 is a perfect instrument to test propagation and visualize it using PSK Reporter web interface.
---
---
However, I started to loose interest in FT8 quite fast due to a rather "mechanical" nature of the contacts, that are essentially made between the two computers and lack real human interaction. Soon after my Hustler was installed, I almost exclusively concentrated on SSB phone mode.
When I was just entering the hobby, and even when I started on HF, I never really considered learning the Morse code. However, to my surprise, I met more and more relatively new hams who explored CW – for various reasons, but sometimes out of simple curiosity. When we practice a hobby – it is natural to challenge yourself, strive to develop your skills, and reward for your successes – in this case by making contacts with a new mode. I decided to get into CW as a brain exercise, and still have a lot to learn and improve – but I really enjoy it so far!
Going portable
Another adventure that waited for me this year was becoming an owner of a portable radio station, and becoming active in field communications. My field setup is based on an Icom IC-7100 transceiver mounted in the Commander 7100 go-box from Hardened Power Systems. Approximately at that same time I discovered the Parks on the Air – a great program promoting communications from the National and State parks across the nation that ideally blends my two hobbies: amateur radio and camping.
The idea of deploying my station in the field inspired me to explore solar power as a sustainable extension to the battery of my go-box. Since then, my field setup has traveled with me over 2000 miles to 18 parks in Nebraska and South Dakota, including some fairly intense multi-park adventures.
For the trips when I am not driving, I started assembling an ultra-portable low-power HF station that weighs less than four pounds and is packable into the airline carry-on. It is based on an Elecraft KX2 transceiver and a PackTenna random wire antenna. So far it is on its very early stage, and I only had a chance to briefly test it once while camping in the woods.
Where do I go next?
I am really excited about what my second year on HF will bring! The dynamics of the first year, with all the challenges and achievements, sets the bar quite high. And first of all – I really hope to at least remain as active on the bands as I was this year, and to have opportunities to go in the field every once in a while. Like all my fellow hams, I hope for better propagation next year as well!
What new milestones I want to achieve? I an determined to work on further improving my CW skills. I want to try some new digital modes, among which are PSK31 and SSTV. I also hope for an opportunity to have some experience operating radio abroad.
All that being said – I would like to encourage you to follow your passion. Start small now rather than waiting for an opportunity to start big later!