Little by little, we are all trying to get outside and enjoy the outdoors – especially now when it's summertime, and the weather is nice. During spring, I explored my chances to resume multi-park roves by first visiting one, then two parks at once, so that I could keep my operations completely autonomous. Finally, on May 8th I decided that it was time.
Of course, a day-long adventure that includes multiple parks also involves much more planning to make sure that everything runs smoothly. I prefer to look for clusters of parks that are relatively close to each other, so that I don't lose too much time on driving between my operating points. A recent addition of new parks to the Parks on the Air program created a nice four-park cluster just west of Lincoln, which is quite close for me to drive to.
---
---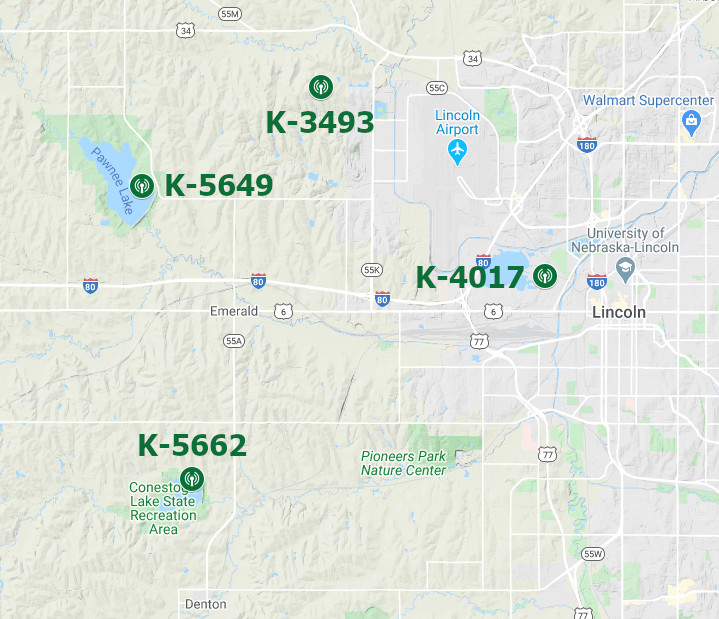 My morning started at K-4017 Lincoln Saline Wetlands (which is not actually a state park, but rather a conservation partnership ran by the City of Lincoln). Since the place is not very attractive, and I had to set up my station in the parking lot not too far from residential buildings, I did not plan to spend too much time there. Quick 26 contacts in 25 minutes – and I was out of there!
My next stop, K-3493 Nine Mile Prairie National Historical Park, was quieter and more secluded, but nevertheless not so scenic that I would be willing to come here again. I had to set up in a relatively small parking lot by the road, and spent a little under one hour on the air, yielding 49 contacts with 1 park-to-park.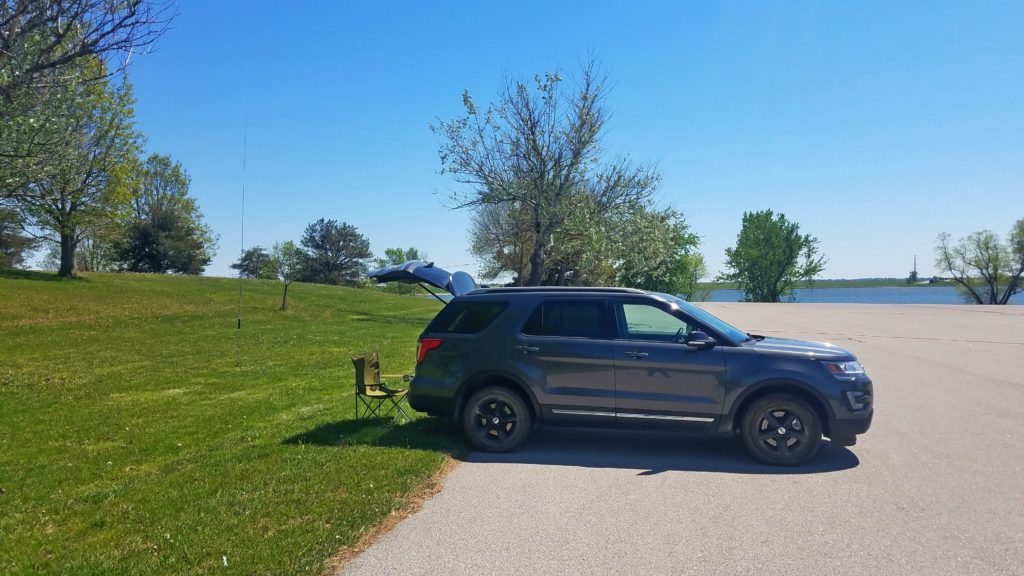 The second half of the parks – two recent additions to the Nebraska's list – were way more picturesque, and definitely fell into the category of those places that I'd visit to activate again. K-5649 Pawnee State Recreation Area has several convenient operating positions not far from water – I chose the parking lot at higher elevation and with better horizon, as well as with a generous lawn to lay my radials. I also spent a little bit under one hour on the air here, logging 34 contacts including one SOTA station in CA. The place was also quite welcoming to relax and have lunch, and the facilities were open right on the parking lot, which was also very helpful in the middle of my expedition. Of course, I took all precautions (in fact, I carry a bottle of hand sanitizer in the door of my car all the time).
---
---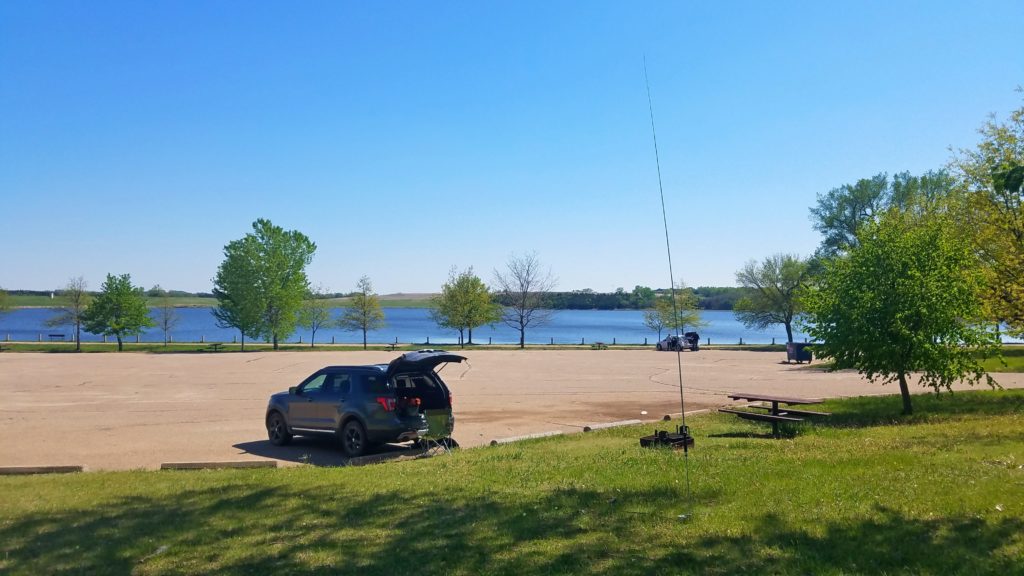 Later in the afternoon, it was time for the fourth and last park for the day – K-5662 Conestoga Lake State Recreation Area. I set up to operate in a large parking lot overlooking this beautiful lake. Within 75 minutes on the air, I logged 76 contacts, including 3 park-to-park ones, which made it my 3rd most prolific individual activation so far.
Overall, I came back with a total of 185 QSOs from 4 parks – my top result in a single day so far. The bands were good, but not great – QSB was sometimes very strong and made it much harder to copy weak stations. I mostly worked on 20 meters, and only tuned to 40 in the second and third parks. While in the latter, I also tried 17 meters and got CO8LY from Cuba. 20 meters was especially booming later in the day – in my fourth park I even got a QSO with Ciro IZ0BNV from Italy, who was hunting Nebraska for a WAS award.

The weather got much nicer in the afternoon as well. Since it was early May, it was quite chilly (and windy!) in the morning when I started, but it warmed up well into the 60s when I was in my last park. It always feels great in the end of a very productive day, and I can't wait to hit the road for the next multi-park rove soon!