After quite a busy end of the semester, I finally got back on the air last week. The weather was unseasonably warm, and I was going down to Lincoln to visit my friends – thus, I decided to leave early and make a stop at Eugene T. Mahoney State Park that I activated once before.
This was not one of those days when I was planning to hit several parks, and thus work on a tight schedule. Quite in opposite, I was looking for a relaxing few hours on the air, making as many contacts as I can, before continuing my journey down south.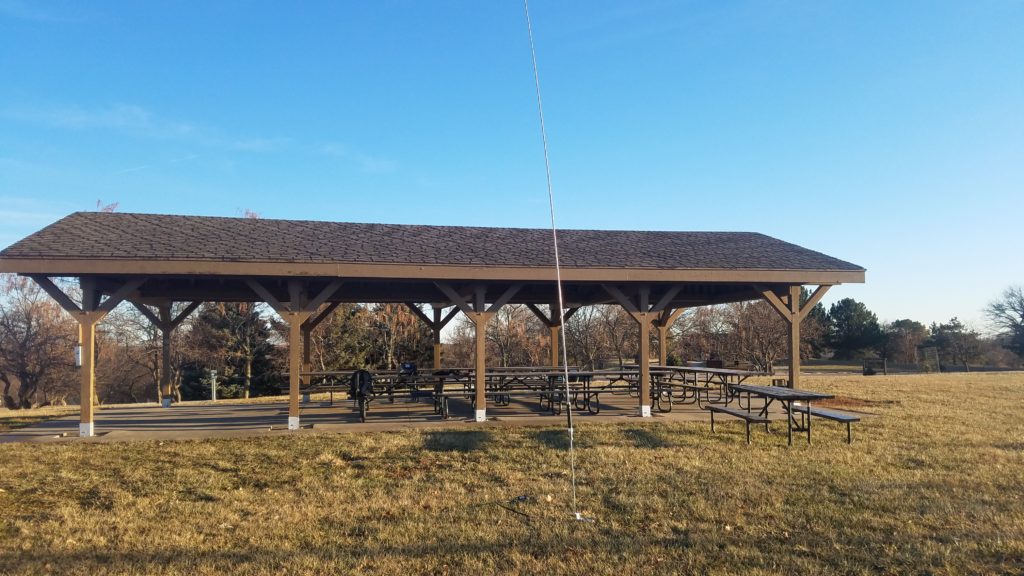 I arrived in the afternoon, almost an hour later than I planned – however, there were still plenty of time before sunset. I quickly deployed my field station – I decided to use the long whip with my Super Antenna again. However, this time I did not even bring the solar panel, since I did not plan any more parks, and I was confident that I won't run out of power in just 1-2 hours on the air.
As I usually do, I started my activation on 20 meters. Even though the cell coverage is excellent and I was able to spot myself, things were quite slow on the band. I still got 20 contacts with great coverage across the continent (from WA, OR and ID to AZ and CA, from QC, NH, MA and CT to NC, SC and FL), and even scored my first POTA contact with Puerto Rico – I bet there was some help from the grey line for me at that time!
---
---
Since I wasn't planning to go for a record, I was quite satisfied and almost ready to call it. However, I still had about an hour of sunlight – thus I decided to switch to 40 meters to see what this band has to offer. And that's when the propagation gods turned all right at me, and the airwaves opened wide! Even though I found logging with an app quite more efficient (and Santa brought me an early present – a tablet – to make things even more convenient), I barely kept up with the steady stream of calling stations!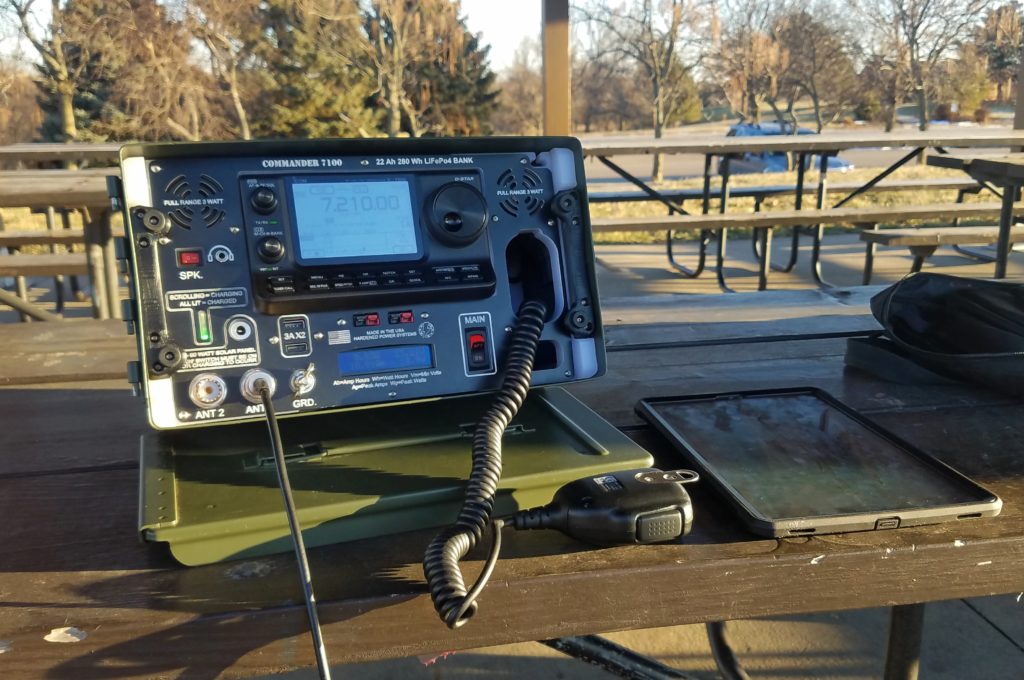 Coincidentally, just around this same time, there was a very interesting discussion happening in the Parks on the Air Facebook group regarding best practices of handling traffic during the pileups. There are a lot of good thoughts and practical advice there, so definitely join in and give it a read if you're interested!
Not pretending to be a "pileup guru", I also have a few thoughts on this topic. These results from both my experience handling heavy pileup traffic on the air during several activations, but also trying to get through the pileups as a hunter (or occasional contester – though I never do it for any credit).
One of the most important things to do when working a pileup – do direct your traffic. Please make sure you use "QRZ" to indicate that you are ready for the next contact. Don't let everyone else guess – they may not hear some of the other calling stations.
Some people suggest to call stations based on their area numbers. I understand that it may simplify things and make the flow more orderly – however, I strongly dislike this practice. Whenever I am on the opposite side and the calling station goes through the area numbers – I spin the dial. Not being rude – I just don't want to wait for my number, sometimes for quite some time. I rather stick with the station that I heard most of (or the complete) callsign – it enables me to better keep the pace without the need for asking for repeats.
I understand, however, that the above practice may put weaker stations at disadvantage. Thus, I try to make a pause every once in a while and call QRP, mobile, portable, and (for POTA purposes) park-to-park stations only.
---
---
The operator's pace while working the pileup is worth a separate note. I've seen and heard some operators that score QSOs at a rate of 3-5 per minute and more – and I understand that there may be some unique drive in that. However, I don't care about contests that much, and the human interaction means a lot to me when it comes to talking with someone on the air (which is why my thoughts aren't all applicable for working contest pileups). Thus, I always try to step aside from a simple signal exchange: I always give my name if the calling station does so, and I usually tend to thank the fellow operator for the contact in a few words. I will always answer a question (for example, about my equipment, weather, or what in the world am I doing in the park). If I hear a familiar callsign – I will try to greet them and let them know that I remember them. Unfortunately, not all the time I will remember the name (sorry about that!) – but at least I will remember the call! Last but not least, during my latest activation, for example, I tried to wish everybody happy holidays. I does take time, and my pace is thus slower – but it's not because I don't respect those waiting for the QSO during the pileup, rather because I respect all those who make a contact with me, and strive to treat everyone at least somewhat personally.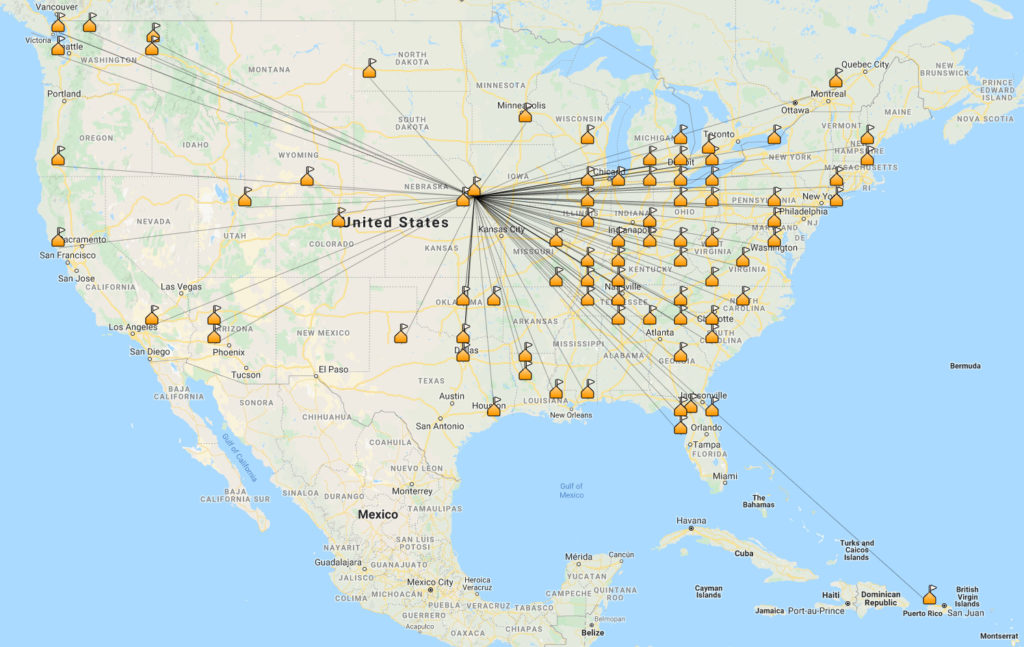 I honestly did not even notice how the second hour on the air ran by. The Sun was going down, it was getting quite cold, and I was already late to the meeting with my friends in Lincoln. Thus, after a few "last call" reminders, I went QRT (sorry if I missed you – I really had to leave, but I promise to be back!). What was planned as a quick "drive by" activation turned into my most prolific single-park outing so far!
Quick stats
20 meters: 20 contacts in 1 hour (1 contact in approximately every 3 min), longest distance QSO with KP4ASG from Puerto Rico (almost 3750 mi). Overall average QSO distance 2045 +/- 450 mi.
40 meters: 86 contacts in 1 hour (1 contact in approximately every 40 sec). Overall average QSO distance 1050 +/- 340 mi.
Total 2 hours on the air, 106 contacts with 35 states + PR, ON, QC. Overall power consumption was 7.3 Ah – quite a bit less than my earlier estimate, I think the outside temperature plays a role here.
It was great to be back in the park after a month of quite intense time at work, and the weather gave me a perfect chance. I enjoyed making pre-holiday contacts with so many awesome hunters, and hearing many familiar voices again. It's a convenient park for me to operate from, and I'm sure I'll be back there again for a "repeat offender" activation!