Last weekend, the weather offered a very mild Saturday afternoon that was very hard to spend indoors. Plus, I haven't done any field radio since my trip to Michigan, so it didn't take too much for me to get set for a quick outing to one of the local parks. I knew that the weekend was also waiting for a major contest – the ARRL Sweepstakes – but luckily for me, it didn't start until later, so I had good chances to find a spot on the bands just for myself and the awesome POTA hunters.
Since it was an impromptu little adventure, I did not quite follow my usual preparation routine. Not that I needed a lot of research on the park that I was heading to – I've been there before and knew quite well where I will operate from. However, I didn't have a chance to check my station's battery in advance – and, unfortunately, it turned out not to be fully charged.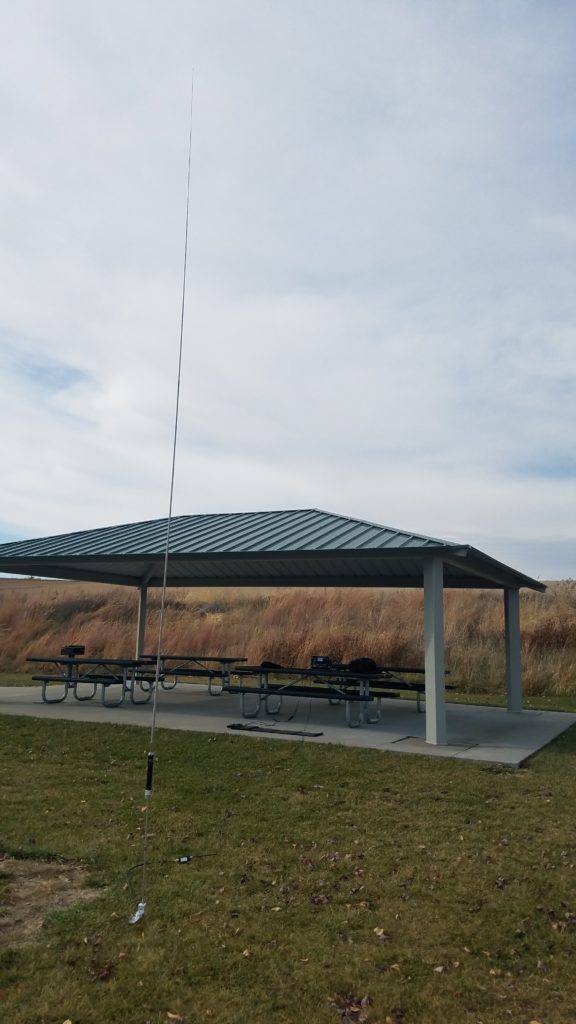 This time I was headed to Prairie Queen Recreation Area in the southwestern part of Omaha Metro area (POTA designator K-4014). Once I arrived to my destination, it did not take too long to set up. I worked with my full-power 100 W station (back to it again after several great tests and an inspiring trip with my ultra-portable setup!). In the past several months I've used a longer 17-foot whip from MFJ with my Super Antenna, that showed its improved efficiency during my recent tests.
With a trusted, tested and proven station in hand, I still wanted to try something new during this outing. Recently, I followed with interest several discussions about various logging software that people use in the field. I decided to leave behind anything that works on a laptop, since I have no intention to include it into my radio setup any time soon. Thus, I concentrated on mobile apps (and since I'm an Android guy – I wasn't paying too much attention on iOS-only ones).
I have to admit that I was quite skeptical about logging with an app in the field. During all my 20+ park activations this season, I used paper logs. It proved to be a convenient and reliable approach, with a lot of flexibility to make corrections or quickly put some additional info that the logger won't necessarily have a field for. However, there's a substantial drawback to it: after coming back from a four-park rove with almost 150 contacts in the log, it takes quite some time to manually type them in to my main log.
---
---
After some consideration, I decided to try the VLS Logger. It is a simple and user-friendly app with not a whole lot of bells and whistles – but I don't quite need any of those. What I need is a one-time log generation, export as ADIF to my email – and then I clean it till next use. An added bonus is that one can specify that you operate POTA (or SOTA, or other supported program for that matter), and it has a fields to input your park number, as well as the DX park number for park-to-park contacts. The QSO counter also comes handy – no more need to anxiously count the lines to see if you got the magic 10 contacts yet! 🙂
On that day, everything was just right for an experiment: I knew the park, it was a close one so I won't be too upset if something failed, and I had plenty of time since it wan't a multi-park activation. And I have to say – I was pleasantly surprised! It was pretty convenient to do the logging with one hand (the other one was busy with the mic – in ~70 minutes I logged 66 contacts, so I didn't quite have time to take it slow). It actually saved a lot of time by populating the time for me – I noticed before that looking at the rig's clock every time I make a contact takes some precious time.
Being busy with the contacts with no breaks, time flew by so fast that I barely noticed how the sun moved away from my solar panel. The battery was approaching the rig's power decrease voltage. In addition to that, the cold front was getting close to the area. I could feel that it was getting uncomfortable, and strong wind was picking up, bending and close to knocking down my almost 20-foot antenna that was not guyed. Thus, I had to call it – disassembly and pack-up was quick as usual, and soon enough I was back home.
---
---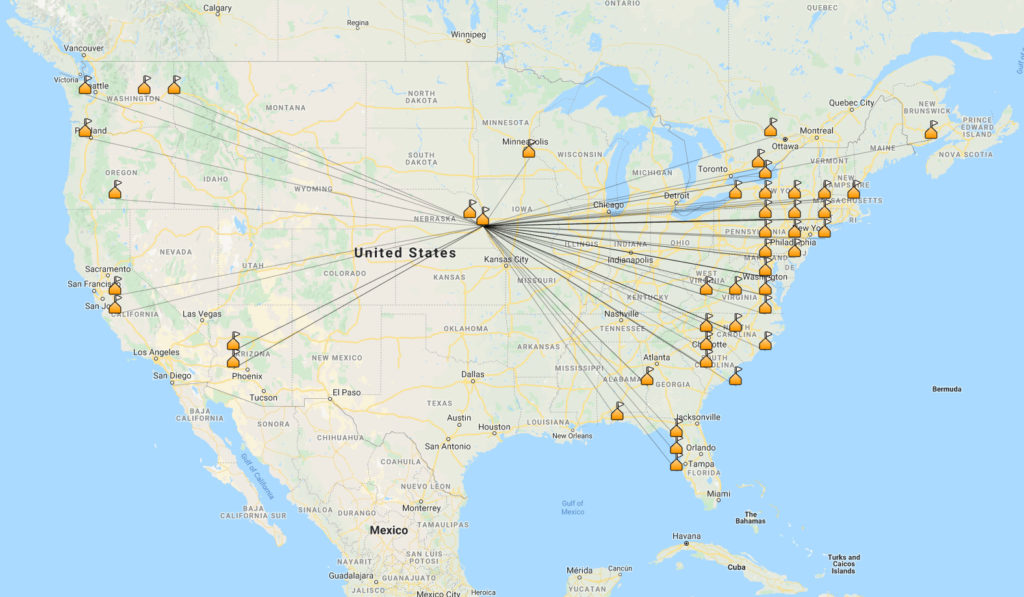 Getting the log to my computer took just few clicks – the app exports the log in the ADIF format and sends it to your email (there are other transfer options too). After that, I imported the file to my main logger (I use Log4OM), and went through, line by line, populating the stations' locations and operators names (something that the app does not populate automatically). Since it was my first time, I didn't pay enough attention to pre-fill some fields before starting the activation, thus I had a little more than necessary work to do as well. However, further editing in ADIF Master before submission to my POTA Area Coordinator was very easy, since all necessary field were already in the log – no manual additions needed any more.
It was very satisfying to note how good the band conditions were that day. I only worked on 20 meters – but mostly got goo signal reports, and the coverage was very nice (see map above)! At some point, I even had a decent pile-up, and at an average rate of 1 contact per minute the time flew very fast. Due to weather and power I had to end the activation sooner than I planned – but I am endlessly thankful to all the passionate hunters who kept me busy and filled that hour with so much fun! Logging using the phone app was easy and convenient, and I assume that it would've been even more convenient if I used a tablet. I think I will give it another try during my several upcoming activations to see it I will decide to stick with it.