I liked to support Parks on the Air activations long before I decided to register on their website: in fact, next day after I signed up I opened the statistics page and found that I already had over 20 "hunter" records (hunters are those who make contacts with the parks, usually from their base station, whereas activators are those who are setting up their stations in the parks). But when I decided to go out and activate parks, those in Nebraska that have never been activated before became my main focus.

On June 29th, I hit the road to activate four parks not too far from Omaha. On this trip, I was visiting K-3491 Lake Wanahoo State Recreation Area, K-4021 Red Cedar Lake Wildlife Management Area, K-4020 Timber Point Lake Wildlife Management Area, and K-4018 Wildwood Lake State Recreation Area. The only downside of this exciting trip was that an Excessive Heat Warning was issued for that day, and the temperatures were forecast to peak in high 90s. Multiplied by the traditional Nebraska summer humidity, we were looking at heat index in excess of 100F. However – I still decided that the show must go on!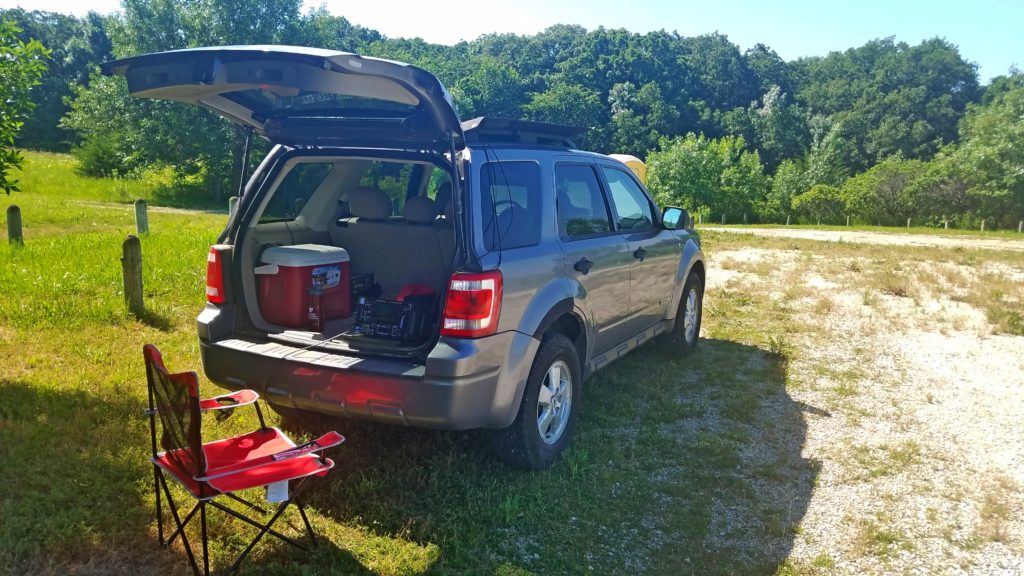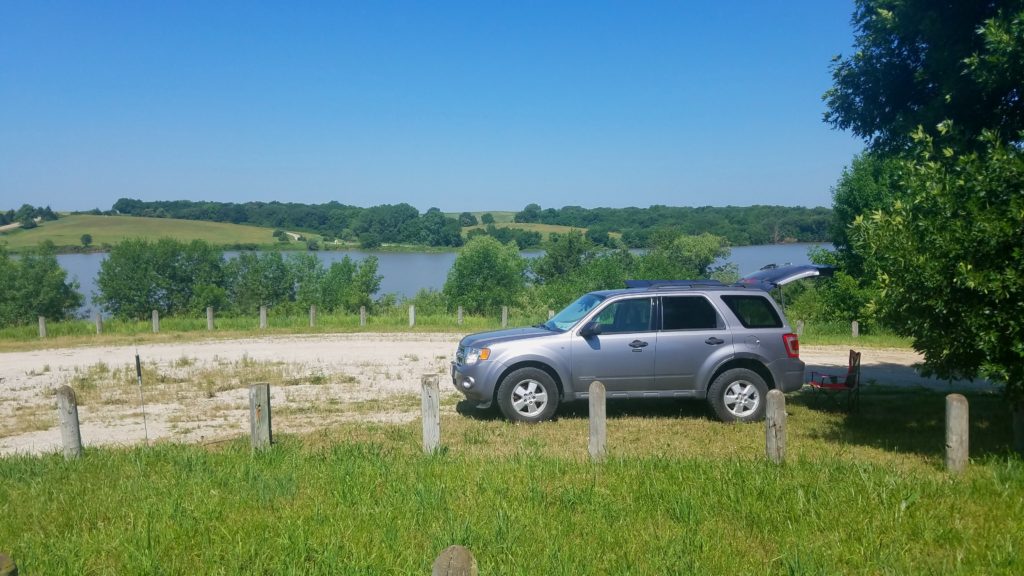 For each activation to be successful, I had to set up my station within the limits of the park, and make at least 10 contacts with the hunters (in fact – with anybody who can hear me and wants to return my call). To expedite the set-up and tear-down at each location, I decided to work from the back of my car using a camping chair, and deploy the antenna at ~20 ft from the car to allow enough space for the radials. In the beginning of the trip, the temperature was bearable enough to allow me follow the plan. However, I drove to my last park close to the peak heat (about 3-4 PM), and it felt so hot outside that I decided to stay in the car for this last activation of the day: I def the antenna and solar panel cables through a tiny opening in the front passenger window, and enjoyed making contacts with the comfort of AC. Luckily, the running engine and car electronics did not produce any noticeable RF interference.
---
---
K-3491 @ 1500-1600Z

K-4020 @ 1630-1730Z
K-4020 @ 1830-1930Z

K-4018 @ 2030-2100Z
Overall I spent approximately 3.5-4 hours on the air, and made a total of 144 contacts. It did not come easy – everybody knows that the bands are not great now when we are in the bottom of the solar activity cycle, and extreme heat certainly did not help either. However, I had a lot of fun and greatly enjoyed this outing! An interesting observation was made when I compiled the maps of my contacts: as the day progressed, I reached less and less stations to the west of my location. Whether it is an interesting propagation behavior or anything else – the question remains open, and there was an interesting discussion about that in the POTA group on Facebook.
Now that this little trip is in the books, I am definitely looking forward for a couple more outings this season – with the goal of filling more blanks on the POTA map of Nebraska!